West Paw and Earth Animal, two Certified B Corporations and pet industry leaders that share a commitment to bringing healthy, safe, and responsibly made product solutions to pet parents, jointly announced at Global Pet Expo a new enrichment dog toy: "Funnl" by West Paw® that has been uniquely designed to enhance your dog's chew experience exclusively with Earth Animal® No-Hide® Dog Chews.
"Earth Animal's mission to enhance the quality of life for animals, and the Earth, aligns so well with what we stand for at West Paw," said Spencer Williams, West Paw CEO. "Our two teams brought their unique passions to this collaboration and created a solution to keep our best friends engaged with a dynamic new toy exclusively paired with Earth Animal's No-Hide® Dog Chews. From teething puppies and dogs with excess energy or suffering from boredom to senior dogs with mobility issues and more, there are so many ways to Funnl™ your daily dog experiences."
Pet parents slide a small, medium, or large Earth Animal® No-Hide® Dog Chew into their West Paw Funnl™ toy. The combination of the dog chews with this innovatively designed enrichment toy not only offers a savory snack but a multitude of brain-boosting benefits and long-lasting, wholesome fun that dogs love.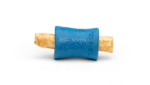 Funnl™ is made in the USA and crafted from West Paw's beloved Seaflex®, a combination of ocean-bound plastic and zero-waste Zogoflex® materials that are 100% recyclable, non-toxic, BPA-free, latex-free, FDA-compliant and dishwasher safe. Built for moderate chewers, it is designed exclusively to hold an Earth Animal® No-Hide® Dog Chew in place for long-lasting fun and the various benefits the combination provides each dog. Additionally, a secret interior groove offers the option to add Earth Animal Wisdom™ Food or West Paw Creamy Treats for an extra delicious, special surprise.
"Together with West Paw, our companies are dedicated to making our world a bit better for dogs, their parents, and the planet, too," said Stewart Shanley, CEO of Earth Animal. "Both of our companies were founded with this mission at heart, and I'm thrilled by this new product collaboration that brings our brands together to offer a new dog chew experience that draws out the incredible flavors of our No-Hide® Dog Chews and brings even more joy and enrichment to the dog's day."
Earth Animal No-Hide® Dog Chews are the leading, healthy alternative to rawhide. Made with real, simple ingredients, No-Hide® Dog Chews are delicious and digestible treats that keep dogs blissfully content. The Veterinarian-innovated and formulated recipe is not only easy on a dog's tummy but also promotes healthy teeth and gums. Known for compassionately sourced, humanely, and sustainably raised products, these super tasty dog chews are gluten and grain-free, mixed, rolled, and baked in Lancaster County, Pennsylvania.
Earth Animal No-Hide® Dog Chews are available in three sizes: Small (for dogs 10-39lbs), Medium (for dogs 40-69lbs), and Large (for dogs 70+lbs) and three flavors: Chicken, Beef, and Peanut Butter on the West Paw website. For more flavors and complete pricing information, please visit earthanimal.com.
Funnl™ is offered in three colors: Marine, Tropic Red, and Kelp, and one size that fits any Earth Animal No-Hide® Dog Chews in sizes small, medium, or large. Funnl™ retails for $19.95 and is backed by West Paw's "Love It Guarantee".
The products are also sold separately.