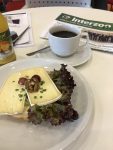 As Germany's pet population soars and veterinary medicine progresses, there may soon be a shortage of full-time practicing vets. A shortage does not appear to be an issue in the U.S., but just like in the U.S., Germany is graduating more female veterinarians. Work/life balance is an issue for these graduating vets and millenials, but Germany also faces stiffer regulations that compounds the issue. As a working mother and business owner for many decades I can relate!
I was thrilled to have the opportunity to meet Dr. Petra Sindern to interview her at Interzoo. I know she wouldn't be the first to categorize herself as such, but since we redheads are a small percentage of the population, I look for my peeps wherever I can, and I noted our comraderie in this department immediately.  I also noted to her my German roots, all the while asking for repeated clarifications as she patiently explained a German practice or we translated to "American English."
All in all, I came away with insights into veterinary care in Germany from a practicing woman veterinarian, a volunteer official who together with her colleagues wants to resolve the issues in veterinary medicine in her country. Dr. Sindern's thoughtful, considerate nature reminded me so much of the many veterinarians I've come to know these last few decades.  Dozens of practicing and boarded veterinarians in many areas of specialty I've met, all with a profound love of the profession and a desire to give back. Sure there are always serious issues of debate in veterinary medicine. But in the end, it's all about coming together for the care of animals, and there's nothing wrong with along the way spreading a bit of that caring for each other.
Ich wunsche dir alles Gute, Dr. Sindern!
@lgerminder
Read my prior Interzoo blog post on the Hawaiian Marine Fish Permit ban here. Register for our newsletter here to receive future updates from Goodnewsforpets.com or follow the site on twitter or instagram @goodnewsforpets.