Under the Weather® Founder and President, Kyla Sternlieb, announced today that Under the Weather® will showcase its new Vet Formula line of dog and cat products at the VMX 2018 trade show in Orlando, Florida.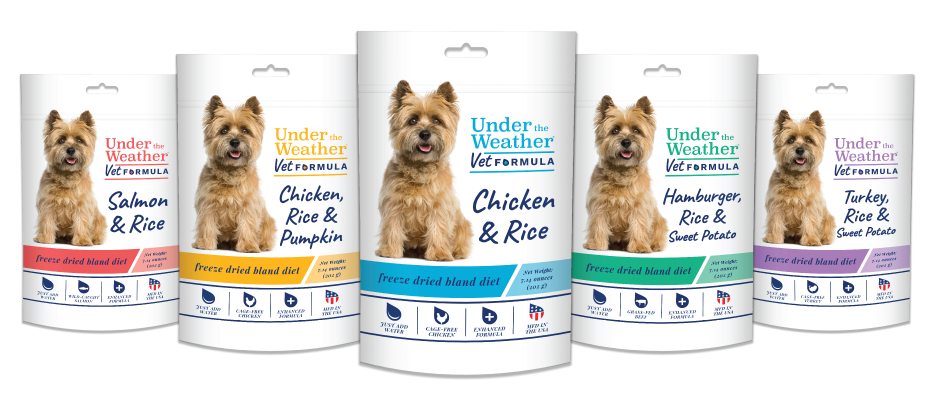 Freeze-Dried Bland Diets. The company has reformulated its freeze-dried bland diet products for the veterinarian channel to include additional ingredients to optimize intestinal health. Busy pet parents can simply add water, no more cooking! Made with 100% premium lean meats, vegetables and whole grains raised or grown in the U.S.A. Gluten free, no meat by-products, just a clean and simple bland diet to soothe the digestive tract during times of digestive upset. The line includes the five most popular flavors: Chicken & Rice; Chicken, Rice & Pumpkin; Hamburger, Rice & Sweet Potato; Salmon & Rice; and Turkey, Rice & Sweet Potato. Each bag makes up to four servings, depending on the size of the dog. Shelf stable for up to three years.
Dog Supplements. Leading the supplement line for dogs is the company's Ready Balance fast-acting probiotic gel designed to support normal digestive balance by helping to maintain normal appetite, digestion and gut health. Ready Balance is a stabilized source of beneficial bacteria, select vitamins and the prebiotic Inulin in a palatable gel base. It contains guaranteed levels of live (viable) probiotics, and the 30 gram dial-a-dose tube delivers accurate feeding levels.

Also included in the nutraceuticals line for dogs are Probiotic and Calming soft chews. Probiotic soft chews support normal gut health during times of stress and digestive upset such as vomiting or diarrhea. When given daily, Probiotic soft chews help dogs maintain the right balance of beneficial bacteria in the gut. Calming soft chews support normal emotional balance during stressful events such as car travel or thunderstorms.
Pet Supplement. Under the Weather® introduces Ready Cal, a high-calorie nutritional supplement for dogs or cats. Ready Cal is ideal for pets that aren't eating normally due to medical procedures or anxiety/stress to ensure they receive the calories and nutrients they require. Contains nine vitamins, seven minerals and fatty acids. Pets love the palatable natural fish and malt flavors, making it easy to direct feed or mix it in with their food. The 100 gram dial-a-dose tube ensures accurate feeding levels.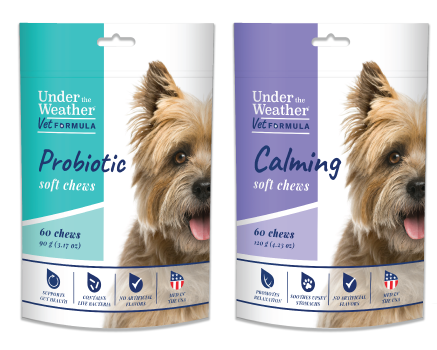 Cat Supplements. Additional nutraceuticals include five whitefish-flavored functional soft chews:
L-Lysine chews to support normal respiratory health
Probiotic chews to support normal appetite, digestion and gut health
Hairball Support to assist with the elimination of hairballs
Calming chews to promote relaxation and normal emotional balance during times of stress
Urinary Support to maintain normal urinary tract health
All of the Under the Weather Vet Formula products are vet formulated and manufactured in the U.S.A. These products contain no corn, wheat or artificial flavors.
Sternlieb said, "We're very excited to reveal this new line to a wide audience of veterinarians and vet techs at the shows this year. We listened to the feedback we were getting from clinics and distributors in the vet channel, and we're proud to respond with these new, enhanced vet-specific products. We believe they will be very successful."
Source Under The Weather