Veterinarian-Prescribed Wearable Pet Vetrax™ Monitor Communicates What Dogs Can't
VetraxTM helps veterinarians maximize the effectiveness of health care programs for dogs. AGL, manufacturer of the new Vetrax wearable monitor, is partnering with food giant Hill's Pet Nutrition Inc. in a joint effort to improve canine health and behavior. The Vetrax Sensor, Vetrax App for pet owners and Vetrax Portal for veterinarians provide access to detailed insights that go beyond basic activity tracking to include shaking, scratching, running, walking, resting, sleeping and sleep quality.
How It Works
VetraxTM provides accurate and detailed monitoring of a dog's specific behaviors to help veterinarians monitor, evaluate and manage treatment plans for dogs.
Advanced Monitoring
Vetrax is the only system that goes beyond basic activity tracking to monitor specific pet behaviors, including shaking and scratching, that can impact medical treatment for dogs. The system monitors shaking, scratching, running, walking, resting, sleeping and sleep quality.
Veterinarians and staff find that the behavior monitoring system helps to:
Detect health challenges, like arthritis and dermatology issues, before the onset of clinical signs
Evaluate weight management and nutritional programs
Review the activity of dogs recovering from surgery
Actionable Insights
The Vetrax Sensor, App and Portal work seamlessly to deliver a continuous stream of detailed, accurate information that helps pet owners and veterinarians plan and evaluate ongoing health care programs.
The information helps to:
Confirm observations or discover issues that may have gone unnoticed
Advise pet owners if and when an appointment may be required
Help veterinary staff manage and modify treatment plans as necessary
Maximized Care
Vetrax was developed for veterinarians and is only available through the recommendation and oversight of a veterinarian. The system enhances overall pet health by ensuring the most effective medical care can be provided for the full length of treatment.
Vetrax helps:
Improve pet owner compliance, engagement and communication
Align veterinary staff and pet owner objectives
Increase the productivity and quality of each visit
Hardware and Technology
Sensor
You can charge the lightweight Vetrax sensor using the provided USB cable. It takes approximately two hours to fully charge the sensor, and the charge will last about one week. The sensor will begin monitoring behavior as soon as it's attached to a dog's collar. All data collected is wirelessly transmitted to our cloud database.
Veterinarian Portal
The Vetrax portal monitors the specific behaviors that can impact medical treatment, providing continuous detailed and accurate insights that help veterinarians evaluate and maximize the effectiveness of a dog's health care program.
The portal serves as a powerful hub for veterinarians and staff. Here, the collected data is analyzed and used to establish baseline patterns. Veterinarians can set up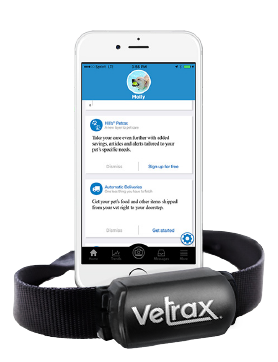 individual targets for each dog and decide when alerts should be sent to staff and pet owners.
Mobile Device App
Pet owners will have access to the data collected from their pet using the Vetrax App, which is available for both Apple and Android mobile devices.
With the Vetrax App, pet owners can:
See their pets' behaviors in real time
Monitor progress against the targets set by their veterinarians
Compare their dog's behaviors with other dogs
To learn more speak with your veterinarian.
Source Vetrax