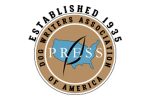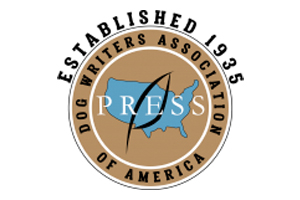 Jill Rappaport and Steve Dale delivered keynotes at the DWAA banquet Sunday, February 10, 2019 at the iconic Hotel New Yorker in Manhattan. After the speeches, DWAA announced the winners of Maxwell Medallions as well as a whopping $15,950 in special awards.
Great news came in the form of a pink bundle Sunday evening to the Goodnewsforpets community when Melissa S. Shapiro, DVM stood up with her pink pup Piglet wrapped in a cozy pink blanket to accept the sister affiliate GNFP Digital Canine Companion Award. The special award was won for her digital story, "A Piglet State of Mind."
The award is for the best digital story – online video, blog post or online article with photography that best demonstrates the bond between people and their canine companions. The content must demonstrate as having been shared through digital media. In accepting the award, Dr. Shapiro said,
"When I entered my article, A Piglet Mindset, I was excited to be part of a contest that honored dogs in areas that are important to me. I truly didn't expect to win any awards. I'm a veterinarian. I go to veterinary and animal welfare conferences. Attending the Dog Writers Association of America's awards banquet was a whole new experience for me. Bringing Piglet to events can be stressful, but I'm always happy to share him with others that are interested. We both had an amazing time in New York on Sunday."
Both Rappaport and Dale volunteer on the board of the Grey Muzzle Organization, a nonprofit that offers grants that support senior pet adoptions. At the dinner it was also announced the Grey Muzzle Organization will sponsor a $500 special award for 2019.
"We're thrilled that these two luminaries in the dog writing community will be giving keynote addresses at our annual awards banquet in New York City," said DWAA President Jen Reeder. "They both have a wealth of knowledge, experience and passion for pets. They made the night so special for award finalists, guests and members – everyone who attended the event!"
Jill Rappaport is an award-winning animal advocate, network journalist and best-selling author, known nationwide as the popular, longtime correspondent on NBC.
Considered a "Voice for the Voiceless," Jill works tirelessly to make a difference for animals in need by shining a light on shelters across America. Rappaport is also the host and consulting producer of Animal Planet's new show "Dog Bowl," which was an idea she came up with to shine a light on older animals in need.
She launched her award-winning segment "Bow To Wow" on NBC's TODAY show and this popular series aimed at finding shelter animals a one-way ticket to a loving home, ran for 8 years and had a 100% adoption record. In addition, Rappaport's heartfelt animal welfare stories for NBC'S "Nightly News" really resonated, all going viral.
She has received the first "Voice for the Animals" Award from HSUS, The Presidential Service Award for Media Excellence from the ASPCA, and the Excellence in Journalism and Outstanding Contributions to the Pet Industry Award. And she has had the honors of ringing The NYSE Opening and Closing bell, all to raise awareness for pets in need.
In addition, Rappaport has written four books, three focusing on animal welfare including the best-selling People We Know, Horses They Love, featuring Robert Redford on the cover. She also has a complete line of dog and cat toys, dog treats, leashes, collars, and dog beds all benefiting shelter animals in need! She sells the dog and cat toys and dog treats exclusively on QVC.
Rappaport resides on her farm on Long Island, New York, with her six horses and six rescue dogs whom she refers to as her "fur angels" saying, "Animal welfare is my oxygen, and when you do what you love, you never work a day in your life."
Steve Dale, certified animal behavior consultant (CABC), is the host of two nationally syndicated radio shows, Steve Dale's Pet World and The Pet Minute (together heard on more than 100 radio stations, syndicated Black Dog Radio Productions, since 2005). He's also a special contributor at WGN Radio, Chicago, and program host of Steve Dale's Pet World (since 1997). He formerly hosted the nationally broadcast Animal Planet Radio.
For 21 years, his twice weekly newspaper column was syndicated by the Chicago Tribune. Steve was a contributing editor for USA Weekend (2002 to 2014). He has written for a long list of magazines, from People to Dog World (where he was a columnist).
He authors a column called Steve Dale's Vet World for Veterinary Practice News, and is also a columnist for the Journal of National Association of Veterinary Technicians in America. Steve co-edited Decoding Your Dog, written by the American College of Veterinary Behaviorists (Houghton Mifflin Harcourt, 2014). Steve's the author of e-books, Good Dog! and Good Cat! (Chicago Tribune, 2013). He's the author of several other books, including DogGone Chicago and American Zoos.
Among Steve's many awards, the AVMA Humane Award (the only AVMA honor bestowed to a non-veterinarian), Editor and Publisher syndicated newspaper Feature Writer of the Year Award, AKC Responsible Dog Ownership Public Service Award (twice), HSUS Pets for Life Award, American Humane Association Media Award, American Pet Products Association Pet Industry Outstanding Media Representative of the Year, and has been honored with over 15 Maxwell Medallions from the Dog Writers Association of America and over 15 Muse Awards from the Cat Writers' Association. He's also been honored by the Chicago Veterinary Medical Association, University of Illinois College of Veterinary Medicine, and was the first recipient of the Winn Feline Foundation Media Appreciation Award, and many others. In 2012, Steve became the youngest person ever inducted into the Dog Writers Association of America Hall of Fame.
"Go online: stories about dogs are too often written by people who merely want to perpetuate their opinions – which is fine, except those opinions are too often not based on facts," Dale said. "When I read a story about dogs or a book is published about dogs, I look to see if that author is a DWAA member. For me, that brings a whole new level of credibility and integrity. I am so proud to be a DWAA member, and so looking forward to visiting with my colleagues."
About DWAA
The Dog Writers Association of America is the most recognized professional writing association devoted to dogs. Founded in 1935, the DWAA has grown from eight founders to over 500 members, including journalists, authors, bloggers, publicists, photographers, illustrators and media personalities. Under the umbrella of the human-canine bond, members cover dog competitions, health, training, rescue, pet fashion, veterinary research, working dog organizations, animal welfare legislation, fundraisers and many other topics. For more information, visit: dogwriters.org.