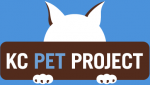 The KC Pet Project is the largest No Kill shelter in Kansas City and the third-largest, open-admission No Kill shelter in the United States. The 501c3, nonprofit charitable organization operates the Kansas City, Missouri Animal Shelter. The organization cares for over 10,000 animals a year and works collaboratively with Animal Control and other animal welfare organizations to increase the number of homeless pets adopted, and focus on lifesaving programs promoting pet retention, identification, lost pet reunions, and pet ownership education throughout the community.
KCPP Mission
To end the killing of healthy and treatable pets in Kansas City, Missouri by using the most progressive and lifesaving programs and promoting effective animal control policies.
KCPP Purpose
The purpose of the Kansas City Pet Project is to facilitate the placement of homeless pets into suitable homes; to establish and maintain an animal shelter for Kansas City, MO; to maintain associated procedures which promote: the health and welfare of pets in our care, prevention of unplanned litters, pet retention and reunification of lost pets to their owners; to increase public safety by addressing issues related to irresponsible pet owners and dangerous animals. We are keenly focused on optimal lifesaving and creating a No Kill Community in the Kansas City Metro.
Germinder20 Power of Pink Honoree Megan Peters has designated the KC Pet Project for her donation.
Donations support the lifesaving mission to help Kansas City's pets. KC Pet Project is the only shelter committed to saving the lives of homeless pets in Kansas City. For more information and to make a donation, visit https://kcpetproject.org