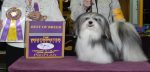 He was oh so close with that swingin' swagger and joyful gait. Bono, a two and a half-year-old Havanese was awarded Reserve Best in Show Tuesday evening February 11 at Westminster Kennel Club Dog Show.
He won top honors for the toy group the prior evening. Breeders are Mary E King & Rafe H Schindler & Julie Vogel & Taffe McFadden. Owners are Mary E King & Rafe H Schindler & Julie Vogel & Taffe McFadden.Sire CH Oeste's Top Gun, Dam GCH Oeste's Stealing The Starlight.
He was just "chillin" when Goodnewsforpets captured a pic of this magnificent pooch backstage as he patiently waited for his debut before capturing the prize for the best of the toy group. While we were enamored by the prep for the Maltese "Anna," it was the coolness of "Bono" that carried the day for this champ in almost making it to top dog. While we applaud the regal "King," the wire fox terrier and the 47th terrier to win Best in Show, Bono is also a dog with a future in our book.
About the Havenese from the AKC
Thinking about getting a Havanese? According to the AKC, the Havanese ranked #23 of the top breeds in 2017 and is the only dog breed native to Cuba. The native lapdog of Cuba's aristocrats and wealthy planters, the dog was named for the capital city of Havana, where the breed gained greatest favor. Depending on the source, the breed's forerunners were said to be brought to the island nation by Italian sea captains or by the Spaniards charged with colonizing the New World in the 1600s.
Among celebrity Havanese owners were two of the world's most celebrated writers. Ernest Hemingway fell under the Havanese spell during his 20 years in Cuba. About a hundred years earlier, Charles Dickens owned a tiny Havanese named Tim.
Havanese are cheerful little dogs, sociable companions that make excellent apartment or city pets.  Big brown eyes, a curled-over tail and a gorgeous silky coat are marks of the breed and they come in a variety of colors.
Although Bono has a long show coat that swings beautifully when he runs, it's not very practical for every day. Some owners enjoy cording the coat, in the manner of a Puli, and others clip it short to reduce grooming time.
Their small but sturdy bodies, adaptable nature, and social skills make Havanese an ideal city dog, but they are content to be anywhere that they can command attention. Havanese are also natural trick dogs, excellent watchdogs and take the job seriously, but will usually keep barking to a minimum.
To learn more, visit the AKC Havanese page.