​(WASHINGTON, D.C.) July 28, 2016—The American Veterinary Medical Association (AVMA) has named Sen. Thad Cochran (R-Miss.) recipient of its 2016 Advocacy Award. Cochran, who accepted the award at a private ceremony in Washington, D.C., was recognized for his many positive contributions to the advancement of impactful legislation on behalf of the veterinary profession.
"Sen. Cochran has long understood the vital role veterinarians play in protecting animal health and welfare, bolstering food safety and security, and advancing animal science," said Dr. Joe Kinnarney, AVMA president. "He has a strong legislative record in support of the veterinary profession. I congratulate him on this well-deserved award and thank him for his many years of advocacy on behalf of veterinary medicine."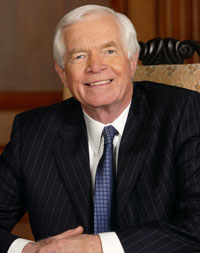 Cochran championed the National Veterinary Medical Service Act in 2003, which established the Veterinary Medicine Loan Repayment Program. To date, more than 300 veterinarians have participated in the program, which places veterinarians in underserved communities in exchange for loan repayment. Cochran supports legislation to make the awards exempt from federal withholding tax, which would permit more veterinarians to be selected for the program in the future. His other advocacy efforts include:
Serving as a chief co-sponsor of legislation establishing the new Veterinary Services Grant Program, which passed in the 2014 Farm Bill and will help educate and train veterinarians for rural practice, and help bolster veterinary practices in rural areas.

As a leading appropriator, ensuring veterinarians have federal resources needed to bolster food safety and animal health, to conduct animal disease surveillance and laboratory diagnostics, to protect animal welfare and advance animal science.

Co-sponsoring more than a dozen bills over the years that advance animal health and the standing of the veterinary profession.
Cochran has had a long, distinguished career in government. In 1972, he was elected to the U.S. Congress for the Fourth District, which included 12 counties in southwest Mississippi, and was re-elected in 1974 and 1976 with over 70 percent of the vote. In 1978, Cochran was elected to the U.S. Senate, becoming the first Republican in more than 100 years to win a statewide election in Mississippi. He has since been re-elected six times and is currently serving his seventh term in office. In the current 114th Congress, Cochran serves as chair of the Senate Committee on Appropriations and chair of the Appropriations Subcommittee on Defense. He also is a senior member on the Senate Committee on Agriculture, Nutrition and Forestry, and serves on the Senate Committee on Rules and Administration.
# # #