Spring will be in full swing before you and your pets know it! Your pets will want to spend more time outside, especially with you. It's important for you and your pets to spend time outdoors in the fresh air and sunshine, however it also brings potential hazards for our pets. Goodnewsforpets wants to help with some important Spring Pet Safety Tips!
Goodnewsforpets has put together some tips on how you can help your pet enjoy spring to the fullest!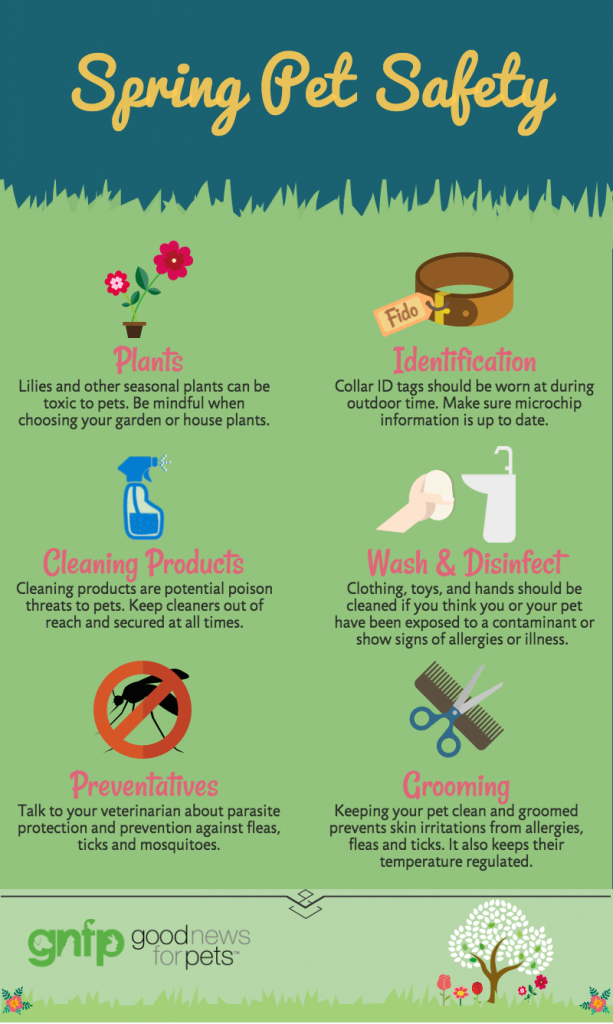 Spending more time outdoors means more exposure to the elements, especially fleas and ticks. It's important that all your pet's preventative care is up to date, including flea, tick, heartworm treatments and vaccinations. Pet parents should keep a file with their pets' medical information handy and stay on top of all your pets' annual and seasonal veterinary wellness needs.
Pets should wear their ID tags at all times especially during the warmer months when they will be spending more time outside. It's up to pet parents to make sure proper identification is worn, legible and up to date with the most current information. Microchipping your pet adds extra safety measures to ensure your pet is properly identified.
Springtime means spring grooming! Keeping your pet clean and groomed helps them to shed their winter coat, but also prevents skin irritations from allergies, fleas and ticks. Proper coat maintenance also helps to keep their temperature regulated in the warmer months.
Grooming also includes good dental hygiene and diet. As well as proper ear cleaning and nail trimming. These are all good habits for grooming your pet year round, but especially during spring and summer when your pets spends more time outside.
Pets can have allergies too. Regular grooming can help identify the signs of allergies, such as swollen eyes, frequent scratching, skin irritations and sneezing. If you pets exhibits any or all of these symptoms you should schedule a visit with you veterinarian. Clean all clothing, toys and objects if you think you or your pet have been exposed to a contaminant or show signs of allergies or illness.
Spring showers bring spring flowers. Lilies and other seasonal plants can be toxic to pets. Common household and garden flowers can pose a threat to a curious cat or pooch. Learn more about potentially hazards plants here. Spring showers and sprinklers can leave puddles of standing water. Try not to let your pet drink out of the puddles of standing water, as they can be filled with bacteria leading to gastrointestinal upset or other ailments for your pet.
Plants aren't the only household items that hold potential dangers for your pet. Springtime means spring cleaning, and certain cleaning products use chemicals that can be hazardous to your pet. Remember to keep all cleaners out of reach and secured at all times.
Exercise for your pet is essential, especially after the winter months when it may not be possible to get outside as much. Exercise for your pet is the same as playing, and exercising with your pet is not only good for your pet's figure and yours, it's good for hearts and minds too.
Remember that spring is fun for you and your pet, get outdoors and enjoy the warmer weather and sunshine. Most importantly practice pet safety so everyone can stays safe and happy!
Feature Photo by Stewart Black, used under a Creative Commons license. No changes have been made.