Space Dogs: Adventure to the Moon movie blasting into theaters on National Dog Day and will help raise funds for local animal and children's non-profits.
On August 26th 2016, otherwise known as National Dog Day, get ready for the journey of a lifetime with the Space Dogs: Adventure to the Moon!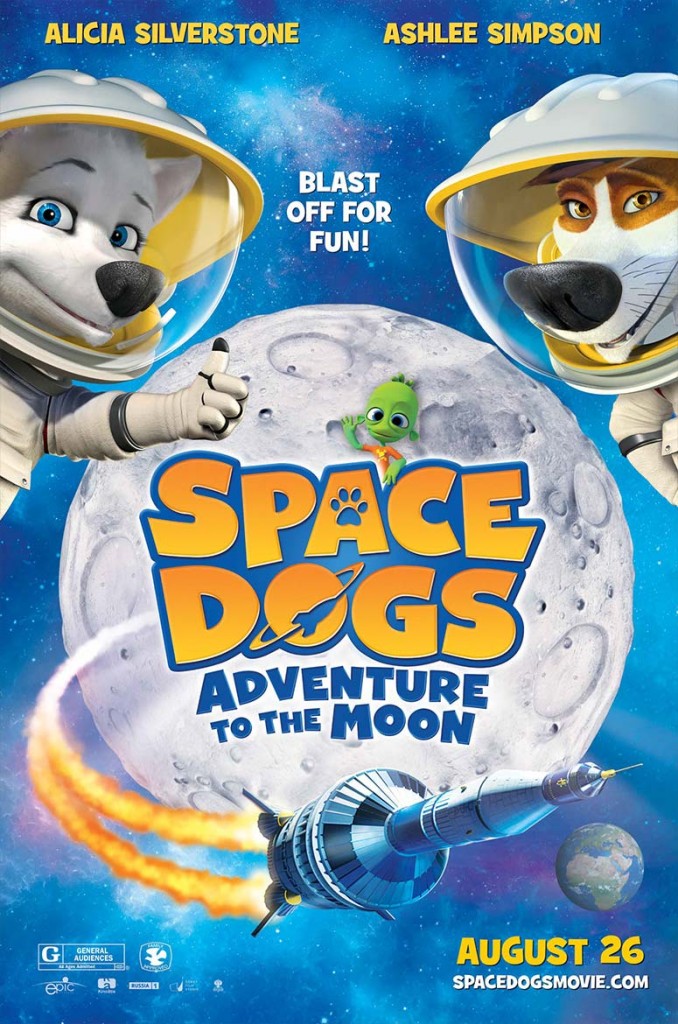 Space Dogs: Adventure to the Moon is the latest creation from the geniuses of Epic Pictures. The picture is the third installment in the highly successful "Space Dogs" franchise. Starring the voices of TV and film actress Alicia Silverstone and recording artist and actress Ashlee Simpson the newest adventure follows the adventures of Pushok the dog and his search for his long lost father on the moon.
The film is directed by Mike Disa, who has an extensive resume when it comes to animated films. Disa was an animator on such Disney classics as "Pocahontas," "The Hunchback of Notre Dame," "Hercules," "Tarzan" and "The Tigger Movie." In addition to his work as an animator and director Disa also voiced several characters in "Hoodwinked Too! Hood vs. Evil."
Producers of the film chose August 26th for a release date because the date happens to be National Dog Day. The day began in the hopes to encourage families to recognize the amount of dogs that need to be rescued and adopted. Epic Pictures have aligned themselves with non-profits and a premier event at UltraStar Multi-tainment Center at A-Chin Circle.
On August 27th to kick-off their afternoon of fun, UltraStar Multi-tainment Center at Ak-Chin Circle located at 16000 Maricopa Rd Maricopa, AZ will host pet friendly vendors, character meet and greet photo opportunity, movie promo giveaways and information on the #LovePup, #LoveUp movements as well as the Johnjay and Rich Care for Kids Foundation.
For more information on the movie, premier and movie locations, visit: http://www.spacedogsmovie.com
About Space Dogs
"Space Dogs: Adventure to the Moon" will be released at several Harkins and AMC theatres throughout the valley, with a special engagement taking place at UltraStar Multi-tainment Center in Maricopa. The G-rated film series has grossed more than 30-million-dollars and has received the Dove Family Seal of approval which is given to films that lack sexuality, language, violence, drug and alcohol use, nudity which makes them appropriate for children. The film's release will take place in family-focused markets of Dallas, TX and Salt Lake City, UT. "Space Dogs: Adventure to the Moon" is on course to be a classic for your children and family alike.