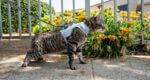 Sleepypod Introduces New Calming Harness for Dogs and Cats 
The unique Martingale Calming Harness is a two-in-one pet harness for anxiety relief and walking. Sleepypod®, a company known for reinventing pet products through innovative design, today introduces the Martingale Calming Harness for dogs and cats. The two-in-one harness is designed for anxiety relief and walking. A breathable mesh harness wraps around the body like a reassuring hug, helping to soothe a pet's fear and anxiety.
"Separation, illness, loud noises, and even visits to unfamiliar places are just some of the possible triggers of fear in pets," says Michael Leung, Sleepypod lead product designer and co-founder. "Sleepypod's new Martingale Calming Harness applies gentle pressure around a pet's body, creating a hugging sensation to soothe anxiety."
The unique product design incorporates a martingale feature to provide control of the dog or cat when used as a walking harness while helping to prevent escape. Similar to the martingale collar design, which is the preferred collar design of dog trainers, a martingale strap will gently cinch around the pet's torso when a leash pulls the D-ring.
"Familiar items with familiar scents can additionally help reduce stress," says Leung. "Using the Martingale Calming Harness for walking before using it to reduce anxiety will create familiarity."
How to Use Videos