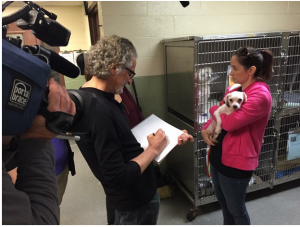 In "Shelter Me: Hearts & Paws," the sixth episode of the national PBS series "Shelter Me," award-winning artist and animal advocate Patrick McDonnell, creator of the MUTTS comic strip, takes a hands-on role with staff, volunteers and the hundreds of animals at New York City's only public, open-admissions animal shelter, Animal Care Centers of NYC (ACC). If you're in the NYC area, you can now stream ACC's segment of the episode online, through Sunday, May 29.
"Shelter Me," created by filmmaker Steven Latham, is an inspiring PBS series that celebrates shelter pets by telling positive and uplifting stories. This episode, presented by the Petco Foundation and airing on PBS stations across the country, will be on WNET on Saturday, June 25, at 2 pm.
Find out when "Shelter Me" is airing in your area by visiting shelterme.tv/schedule/, where you can also see full-length episodes 1-5.