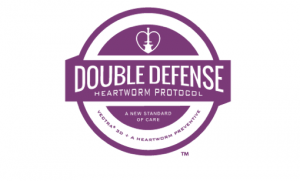 Double Defense fights both the vector and the heartworm
(Las Vegas, Nev. – March 7, 2016) A groundbreaking study by John McCall, MS, PhD, highlights the need to change the approach in fighting the rising incidence of heartworm infection in dogs. McCall's research shows the value of topical repellent insecticidal products in a "double defense" protocol for protecting dogs against heartworm disease and the vector – the mosquito. Rather than rely solely on an oral heartworm preventive, McCall's study supports also using a topical parasiticide to repel and kill mosquitoes. #FightHeartworm.
A professor emeritus in the Department of Infectious Diseases at the University of Georgia College of Veterinary Medicine, McCall's study proves that Vectra® 3D, a topical parasiticide, plays a leading role in a double defense protocol of repelling and killing mosquitoes. Major findings of McCall's research include:
Vectra® 3D was more than 95 percent effective in repelling and killing mosquitoes for 28 days after treatment.
Vectra® 3D was 100 percent effective in blocking the transmission of microfilariae from dogs to mosquitoes.
"A multimodal approach to the prevention of heartworm by reducing populations of vector mosquitoes, preventing mosquito biting and killing mosquitoes, as well as the monthly or bi-annual administration of macrocyclic lactone preventives should be strongly encouraged," McCall concludes in the study. (See the full details on the design and results of the new study at FightHeartwormNow.com.)
"After fighting heartworm the same way for decades, it's time for a new approach," McCall says. "And that includes fighting the vector as well as the heartworm."
The new protocol comes as the incidence of heartworm disease continues to skyrocket. In just the two years from 2013-2015, there was a 166 percent increase in reported positive heartworm cases, according to the Companion Animal Parasite Council (CAPC). Additionally, the American Heartworm Society (AHS) has tracked the geographic spread of heartworm disease to all 50 states and its increased prevalence in several regions of the country.
"The AHS continues to recommend year-round protection to prevent the serious and often deadly consequences of heartworm disease," says C. Thomas (Tom) Nelson, DVM, AHS executive board member and co-author of the society's guidelines for the prevention, diagnosis and management of heartworm infection. "We also see the enormous benefit of a multimodal approach by combining a macrocyclic lactone and a topical ectoparasiticide with mosquito repellent properties and efficacy in killing the vector."
Recent events have drawn worldwide attention to the dangers of mosquitoes and the horrific consequences of vector-borne diseases, says Robert Wirtz, PhD, retired chief of the Entomology Branch of the Centers for Disease Control. "We know full well that mosquitoes and many other parasites inflict serious damage to both humans and our pets," Wirtz says. "The CDC has ample evidence of the importance of vector control in limiting the potential for harm to humans. The same holds true for pets. Fortunately we have the resources to combat this. It's incumbent upon veterinarians to continue to educate pet owners and use every tool possible to prevent disease transmission and, equally if not more important, eliminate the vector to decrease the spread of any diseases."
For the past several years, most veterinarians relied on a unimodal strategy to protect dogs by prescribing oral medications but vector control has received little attention. Nancy Soares, VMD, owner and medical director of Macungie Animal Hospital, sees the validity in a multimodal approach.
"There has to be a dialogue every time you see a patient and the pet owner," Soares says. "The  whole relationship that you have with the client is enhancing the human-animal bond. Dogs have gone from the barnyard to the backyard to the bedroom so we must work diligently to educate pet owners on the importance of repelling and eliminating the mosquito and other potential parasites. Plus, heartworm is a very preventable disease. We need to do everything we can to convey the need for an oral preventative. As veterinarians, it's our obligation to keep pet owners informed of the best possible ways to enhance that bond and protect their beloved dogs. A multimodal approach accomplishes these objectives."
Ceva Animal Health has begun an extensive campaign to educate the veterinarian community on the groundbreaking research. "This independent investigation uncovers an important benefit of the mosquito repellency feature of Vectra® 3D," says Elizabeth Hodgkins, Technical Services Director for Ceva Animal Health. "This research shows that Vectra® 3D can provide an extra layer of defense against heartworm disease, by repelling and killing mosquitoes that may transmit the disease. This is exciting news, and the research supports a new "Double Defense" protocol – Vectra® 3D plus a heartworm preventive – for protecting dogs from heartworm disease transmission." #FightHeartworm
About Ceva Animal Health: Ceva's key companion animal products include the Vectra® line of parasiticides, Adaptil™ (formerly D.A.P.) and Feliway® pheromone behavior aids and Senilife® neuroprotection for aging pets. Ceva Biomune's key poultry products include CEVAC® Transmune IBD, Vectormune® FP and Vectormune® HVT. Ceva Biomune Campus and the North America Zone headquarters are both located in Lenexa, Kansas. Visit www.ceva.us.
About Ceva Santé Animale: Ceva's parent company is a global veterinary health company focused on the research, development, production and marketing of pharmaceutical products and vaccines for pets, livestock, swine and poultry. Its headquarters is in Libourne, France. Visit www.ceva.com.
Do not use Vectra® 3D on cats.