As Hurricane Harvey laid waste to the Houston area, rescue teams were already on the way to help animals in distress and, by extension, the humans who love and work with them. They are there to care for search and rescue dogs on the job, aid animals at risk, provide veterinary care and shelter for injured and lost pets, and reunite people with their animals. Among the many animal organizations on the ground are the Texas A&M University Veterinary Emergency Team and Best Friends Animal Society.
The amount of time Harvey spent hovering over Houston presented rescuers with a unique situation. In other situations, such as Hurricanes Katrina, Rita and Ike, the storms hit and then moved on, allowing rescuers to come in and respond. Harvey's extended stay made it challenging for large-scale response efforts to get in and start doing search and rescue, says Angela G. Clendenin, Ph.D., the TAMU team's public information officer.
Those SAR teams are aided by dogs, and the TAMU team's primary responsibility is to care for Texas Task Force 1's SAR dogs, as well as the dogs of other SAR teams in the area.
"As they're getting ready to go out, we do a pre-operational examination and make sure everybody's healthy and ready to go," Clendenin says. "If something were to happen in the field to one of the animals, we can respond quickly and take care of the animal in the field."
The SAR dogs are checked again when they return in the evening. Most SAR dogs can operate two to three days in the field before they need to be rotated out, but the veterinary supervision the TAMU team provides nearly doubles the amount of time the dogs can work in the field.
"That means more lives saved, so that's a big part of what we're doing right now," Clendenin says.
They are available to help pets as well. Animals who were stranded at home are usually most in need of veterinary care. And for those animals, Best Friends is also there to help.
The organization has two rescue teams on the ground. One has members who are certified in swift-water, deep-water, and water response. Their job is to go into flood zones and rescue animals there. Another team specializes in sheltering and animal handling. The scope of the rescue effort is going to be big and the teams will probably be in the area for a while, says Best Friends public relations director Eric Rayvid.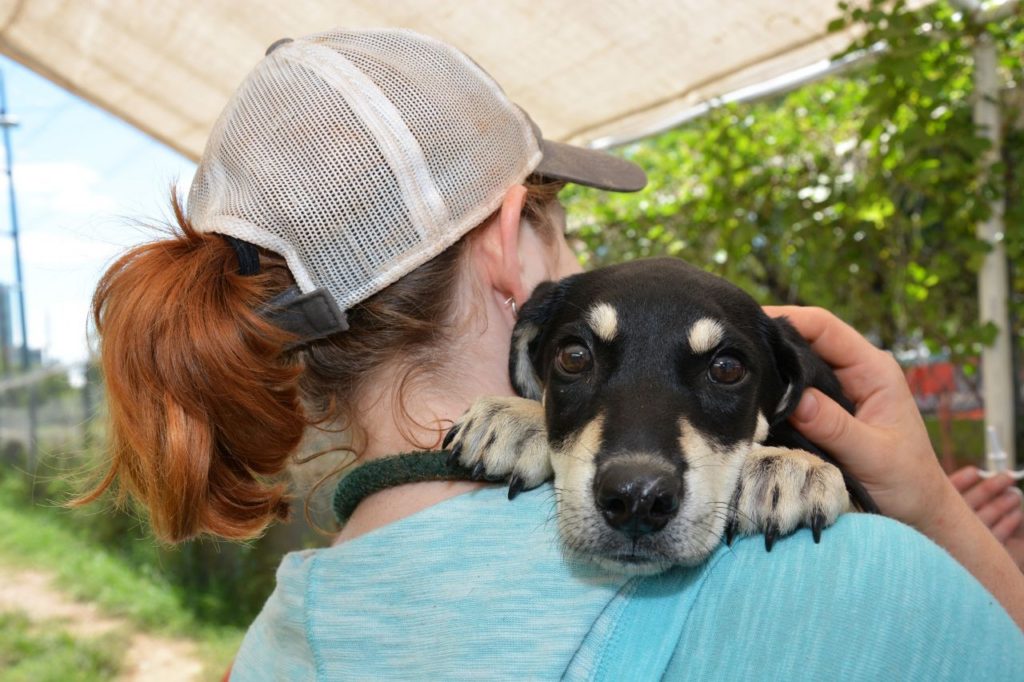 "There are going to be some owned animals that need to be rescued and gotten back to their families, and there are a lot of shelter pets that were in the flood zone that are going to need to find new places to live temporarily. Our number-one goal is to save as many animals as we can, and make sure those family animals get back to their forever homes."
One way they hope to achieve that goal is through use of an app called Vets Plus More. The app uses facial recognition technology to help people find lost pets.
"If I'm somebody who happens to find a dog or cat roaming around, I can snap a clear photo of that dog or cat's face, upload it to the app, and the app's algorithm will look for a photo with the same face on the lost side. So it's a potential great way for families to reunite," Rayvid says.
The importance of reuniting people and pets after disaster is one of the lessons learned from Hurricane Katrina, which occurred a dozen years ago. Then, pets weren't allowed in shelters, and people died because they wouldn't leave their animals behind. Rescued animals were transported to far reaches of the country, never to be seen again by their families.
"We're trying to keep that from happening this time," Rayvid says.