This Goodnewsforpets interview features another speaker at the upcoming February 14, 2016 DWAA Writing Seminar in New York City. Ranny Green is a longtime (1972-2008) Seattle Times features writer, copy editor and pet columnist and multi-winner of DWAA Maxwell Awards in newspaper column and feature categories. He spent nearly two weeks in Louisiana, post-Katrina in 2005, writing stories for The Times while embedded with Noah's Wish pet disaster relief organization. In 2013, he spent several days in Newtown, Connecticut, following the shooting massacre in Sandy Hook Elementary School. He was the first U.S. journalist allowed in the school to interview staff, students and parents. Ranny is a co-director of the Westminster Kennel Club media team. He writes a monthly feature and dog-book reviews for seattlekennelclub.org and regular features for goodnewsforpets.com. In 2013, he was inducted into the DWAA Hall of Fame.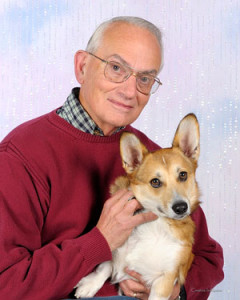 Your writing career has spanned decades. Can you tell us what you like so much about the writing process itself?
I was blessed to begin my writing career in the Golden Era of Journalism – the 1960s to the 1980s when newspapers were revered, journalists were admired and competition thrived. For me, being a sports writer/features columnist was a calling of sorts, something I was driven to be since the ninth grade.
I was a sports writer for the Tacoma News Tribune for slightly more than a decade (1961-1972). My most memorable coverage events were the 1964 Olympic Games in Tokyo and the 1969 Indianapolis 500 race. From 1967-72 I was the newspaper's beat writer for the NBA Seattle SuperSonics, which entailed considerable travel for six months of each year. These were good times and highly challenging from the standpoint of getting scoops for stories while competing against two good friends and beat writers with the two Seattle dailies, one of which I eventually joined.
Because I was gone for long periods of time with the Sonics and because we lived on semi-remote acre, my wife and I decided to get a dog for company and protection. While at the News Tribune in the early '70's, I wrote a Sunday magazine cover story about how my wife and I worked with a well-known and highly respected Tacoma trainer for more than a year on basic obedience and later home protection.
I was shocked by the number of letters and phone calls I received about this story (more than almost any sports story I had written the past decade). This became the trigger mechanism for suggesting to Seattle Times editors two years later to consider allowing me to write a freelance pets column for the newspaper. They agreed. It started every other week and grew into a weekly feature within six months. And the rest, as they say, is history. The nice thing was that it ran on Sundays, the day of the newspaper's highest circulation (at that time 500,000 plus).
What don't you like about writing and the journalism profession?
I can't think of much I do not like about writing. I continue to enjoy being a conduit between the reader and the subject I am writing about. My biggest frustration as a journalist comes when writers are willing to take a paid trip from a manufacturer and then asked to write about its product. I come from a newspaper (Seattle Times) where that is absolutely forbidden because of a conflict of interest and the newspaper's ethics code. I was offered many freebies through my 36-year career with The Times – including two to Europe — and each was rejected. I could not honestly look myself in the mirror if I accepted a free junket, and then write a story about it. Now I will get off my soapbox on that one.
Can you tell us some of your favorite stories or subject matter and why?
Two that jump to the forefront are Hurricane Katrina (2005) and Sandy Hook (2012). I was embedded with the nation's most prestigious pet-disaster relief organization, Noah's Wish, in Slidell, La., for 12 days post Katrina. I was on assignment with the Seattle Times to post stories relating to the rescue, treatment and reuniting animals with their owners, when possible. I was there as a writer – but also as a worker and was able to perform just about every task as a volunteer (there were over 800 volunteers over a two-month period and 1,800 animals in the quickly constructed shelter). This included cleaning cat cages, helping construct temporary shelters, walking dogs, unloading giant semi-truck trailers of donated food, accompanying animal-control workers in to vacated homes where pets were left behind and attending morning and evening staff planning meetings. This left a permanent imprint on me but also opened many new friendships with volunteers and staffers going forward. After I retired from the Seattle Times in 2008 I was asked to serve on the board of directors of Noah's Wish, which I did for six years.
The second most memorable assignment – which evolved into several stories – dealt with flying back to Sandy Hook, Conn., and interviewing teachers, parents and children in a school several months after the tragic shootings there in December 2012. I am proud to say I was the first U.S. journalist allowed in the school to conduct interviews. Tears were shed, trusts were cultivated and friendships were built after several hours of intense questioning surrounding the role of therapy dogs in the schools and the incredible help they provided to students, teachers and parents for months afterward.
A single mother (a teacher at another nearby school) and her daughter, a Sandy Hook Elementary School student, have become my adopted Sandy Hook family and vice versa. You may remember they are the ones who attended a DWAA awards banquet as my guest last year when I was awarded a Maxwell for one of the Sandy Hook stories.
What is your DWAA presentation on February 14, 2016 about?  
It focuses on being creative with one's abilities in today's tight job market. Essentially, I will be zeroing in how I created a new niche for myself upon retiring from the Seattle Times in 2008 after 36 years there as columnist, features writer and copy editor. I equate it to re-inventing one's self. I had to find freelance markets for which I could write steadily.
My first was the Seattle Kennel Club web site. I discussed with the club's board of directors about the possibility of doing a monthly feature and two to three dog-book reviews, which would drive traffic to the site on a year-round basis. To that point the site chiefly attracted viewership in March only, the month of its back-to-back shows. My point here was to have that web site offer content that local newspapers formerly featured but no longer carried. They loved the idea and I continued doing it until last December when club finances would no longer allow it.
Other jobs post Seattle Times retirement have been helping head up our 12-and 14-member media teams at Westminster since 2009; handling media relations for the annual Seattle Kennel Club Dog Shows since 2011; and for the last two years writing features and helping with media relations for the American College of Veterinary Internal Medicine Forums in Nashville and Indianapolis (held in June). And last but not least, I've been a special assignment writer for Goodnewsforpets.com.
Is your presentation for beginning writers, intermediate or veterans?
It's chiefly intermediate and veterans but I firmly believe beginners can take plenty away from it, too. As mentioned in the previous answer, it will deal with tips for opening doors and utilizing one's skills in the challenging freelance market today.
What do you hope attendees will gain from the presentation?
Inspiration and self-confidence. "Don't give up, don't ever give up!" as famed North Carolina State basketball coach Jim Valvano said during the 1993 ESPYS ceremony when he was dying of cancer. Those words resonated with me ever since there are considerably fewer writing opportunities today than five or 10 years ago. I am hoping to inspire those in attendance that there is still a pathway for them in publishing.
Do not give up after an editor's rejection of your story proposal. Each of us has faced adversity in some arena of life but become a better person for it. There are lessons to be learned from it about your personal resolve and character.
Maybe the "no" response will force you to develop another approach to the story or take your proposal to another editor/publisher. If you do receive a rejection attempt to find out why. Was it the story idea? Was it the organization of the proposal? And learn from that. Remember, no means Next Opportunity.
Can someone have a successful career in writing today?
Definitely. Each of us approaches writing from a different perspective. I am a professional journalist. Other DWAA members are veterinarians, breeders, behaviorists, competitors who may be natural writers.
What does it take to become a professional writer? Can you give us three tips?
Determine how to best market and sell yourself to editors while knowing your limits. In other words, don't promise something you can't deliver.
You must have solid credentials. How long have you been a writer and what other publications have published your work. You will very likely be asked to provide examples of your past content to a new editor.
Offer expertise and fresh story angles for your subject. What is your familiarity with it and whom do you plan to interview for the story? Those interviewees should have solid professional credentials in the subject and should be able to offer new, revealing takes on the matter.
What has joining DWAA done for your career? 
It has helped open doors, cultivate new friendships nationwide and consequently uncovered stories I might not have discovered. Because an interest in and love of dogs has brought us all together, we are searching out special stories to attract readers – and yes, editors first.
There is a natural proprietary sense among some writers – especially legitimate journalists – with some pieces but there is a willingness to share, too, among many others.
Anything else?
We are all busy but take a few minutes each year to answer the volunteer call from DWAA, whether it is for judging the annual writing contest (this is a rewarding experience) or some other needed area. This is a volunteer organization and all of the work should not fall on a few.
In addition to volunteering, submit a feature story or two that you are particularly proud of to the newsletter. You never know what editor might be reading it, like your work and contact you about a future assignment.
To register for the upcoming DWAA writing seminar and hear Ranny Green speak, click here.