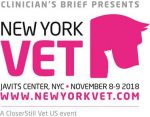 NY Vet returns to New York City once again after a spectacular start from last year's inaugural event last year. On November 8th and 9th the show thousands of veterinarians and their veterinary teams descend upon New York City's Javits Center to hear about the latest medical techniques and professional development topics from top-tier speakers. World-class companies will present their latest products and services. Last year's conference attendees rated the programs 3.51 out of 4–meaning excellent!
Goodnewsforpets.com will be at NY Vet Booth #1100 to talk with veterinarians and veterinary team members as we help Germinder + Associates conclude the company's 20th anniversary year.
Goodnewsforpets.com is also sponsoring Digital and Media Strategist Lea-Ann Germinder, APR, Fellow PRSA, Founder and President of Germinder + Associates, as she presents a Lightning Talk: "What's Your Story Now? Tips & Techniques to Connect with Today's Pet Parents in Social & Traditional Media, Exhibit Hall 1B on Thursday Noon – 12:35 p.m. and Friday 12:15 – 12:50 p.m.  Germinder is also Editor and Publisher of Goodnewsforpets.com and launched GNFP Digital services last year.
She knows the digital space and how to help veterinary teams communicate with pet parents. She'll be sharing twenty years of
Germinder + Associates campaign experience plus eighteen years of experience with the pet parent community. And of course, she's a pet parent and grandpup parent herself. If you have a tip to pass on, you can share a comment right here!
NY Vet is produced by CloserStill Media in partnership with Clinician's Brief. The week after NY Vet, Germinder will head to the London Vet Show to share some of the latest in British veterinary medicine.  CloserStill Media also produces Deutsche Vet in April and France Vet in June. Stay tuned for how we cover those events too! For now, we'll hope to see some of you in the Big Apple and London!