A: The Winn Feline Foundation just celebrated its 50th anniversary in 2018. Winn Feline Foundation advances feline health by supporting research and education. Winn celebrated 50 years of fostering improvements in feline health and through the wonderful sponsorship and design group at Merck Animal Health, Winn was able to provide a superb 50th Anniversary Book available for download or for ordering as a softcover keepsake book.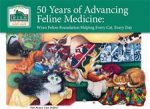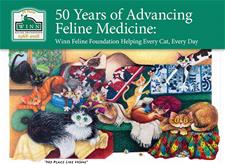 "No Place Like Home" – by well-known artist, Jamie Perry, makes this a valuable collector's item.
Download Winn's 50th Anniversary Book or to order a hard copy of Winn's 50th Anniversary book visit the Winn Feline Foundation web site here.
The International Germinder20 #PowerofPink Honoree Susan Little, DVM, DABVP is a past president of the Winn Foundation and designated her Honoree donation to Winn. To donate to Winn, click here.