While you're out hunting Pokémon, use the Walk for a Dog donation app or volunteer to be a dog walker to help your local shelter or rescue!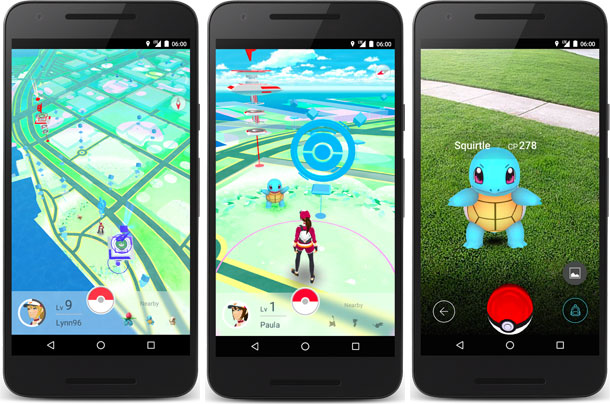 Pokémon Go has become a global phenomenon, generating more revenue and getting more downloads than any other app in the countries where it is available. As of July 19, 2016 the app has been downloaded more than 30 million times worldwide on iOS and Android, and has earned more than $35 million in net revenue according to data industry-tracking intelligence firm Sensor Tower. Pokémon Go reached a record-breaking 10 million downloads in only seven days from it's release. However, you don't need to be a analyst to notice that it has taken the world by storm with users of all ages. Clearly, Pokémon Go has tapped into something that is appealing to everyone and not just fans of the franchise.
There has been press about some unintended mishaps stemming from nonobservant users of the app, leading to some less than positive reactions to the game, but it has inspired some good as well. Parents and guardians report how their children are spending more time outside getting exercise and socializing, adults too! People are getting out and meeting new people and businesses that have embraced the game are seeing more patrons. There have been reports of social media sharing among users about new ways to utilize the app to have more than just fun, but to help people and pets! One of the amazing suggestions out there is to set up lures at children's hospitals. Lures bring Pokémon to a central marked location called a Pokéstop usually at well-known facilities and landmarks for a certain amount of time and anyone in the area will also benefit from the effects, which is perfect for a place such a children's hospital where patients don't always have a chance to get out and "catch 'em all".
One amazing suggestion is to download the Walk for a Dog app while you're out catching Pokémon you can also be raising money for a shelter or rescue of your choice! The app works in the background, tracking your walk while you hunt Pokémon and hatch eggs. Every step counts when the app is open, whether it's a walk around the block or a three-mile hike. Plus the Walk for a Dog site notes that the more people actively walking with the free Walk for a Dog app, the greater the donation to your selected animal organization!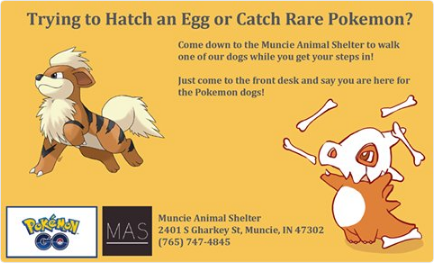 Another notable impact of the game is the way shelters and rescues are utilizing the widespread popularity to find some forever homes for their furry residents or even offering the chance to volunteer to take a dog for a walk while you go our to hunt Pokémon. A shelter in Muncie, IN started a social media campaign to advertise how people could come in a request to take a dog for a walk while playing the game and it went viral. Other shelters and rescues across the U.S. are taking note and offering similar ways to help while gaming around town.
With the popularity among children it's important to remember safety too. The game has a built in reminder every time the game loads, telling users "Remember to be alert at all times. Stay aware of your surroundings." Good Dog in a Box has even put together some free resources for parent and pet parents to help children and their pets stay safe while on the hunt. They stress it's important to have a conversation with your kids about how to stay safe, while playing Pokémon Go by themselves or with the family dog.
Young or old, human or pet it's important to stay safe and think of ways to spread the fun while playing Pokémon Go trying to "catch 'em all"!
Feature Photo: "Walk" by Megan, used under a Creative Commons license. Changes were made.