Foraging is an important activity to keep birds from being bored and alleviate stress. The Planet Pleasures Pineapple Foraging Bird Toy is made with all natural, high-quality materials. Tasty treats can be hidden in the many spaces between the nips to encourage your bird to forage—keeping them entertained for hours. Plus, Planet Pleasures works hard to design and craft 100% natural, artisanal goodies, so you can feel good about treating your birdie to an ethical, top-shelf toy.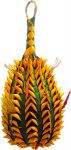 Key Benefits
100% natural and hand-made, each toy is crafted with materials birds might find in their natural habitat.
Features hiding spots in-between the colorful spikes to stimulate bird and encourage foraging.
Shreddable material is great for easing stress in nervous birds or pets who suffer from separation anxiety.
Fibrous materials are perfect for conditioning your bird's beak and may help prevent overgrowth.
Provides your bird with an assortment of engaging toys can prevent destructive behavior such as cage biting.
The dimensions for the Small are 5 x 2 x 2 inches, the Medium is 7 x 2.5 x 2.5 inches, the Large is 9 x 3 x 3 inches, and the X-Large is 11 x 4 x 4 inches. Shown in the extra large size. Ships in a variety of random and fun colors.
Appropriate for all birds including: Lovebird, Parrot, Parakeet, Finch, Cockatoo, Cockatiel, Canary, Budgie, Amazon