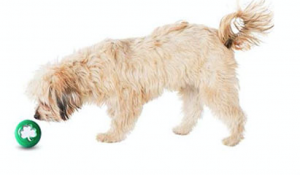 You Lucky Dog! Planet Dog, the designer and developer of innovative dog products has added another addition to their popular Orbee-Tuff Nooks line – the Green Shamrock.
The Shamrock has all the qualities of Orbee-Tuff products – they are doggie-durable, bouncy, buoyant, minty, and made in the USA. It is perfect for stuffing with tiny treat bits, peanut butter, cheese, or any favorite stuffing. These boredom busters will have dogs seeking a snack in every nook and cranny.
Nooks are also available in a Green Peace Sign, a Red Heart, a Yellow Smiley Face, a Royal Blue Star, a Glow Star, and a Red Star. The Nooks are 2.5 inches, making them a perfect fit for the Orbee-Tuff Snoop®, or the Wood Chuck® ball tosser. Nooks are rated 5 out of 5 on the Planet Dog Chew-O-Meter, making them suitable for most chewers. Like all Planet Dog products, they are 100% GUARANTEED. Any Time. Every Time.