The Twist 'n Treat Teaser cat toy makes playtime more fun!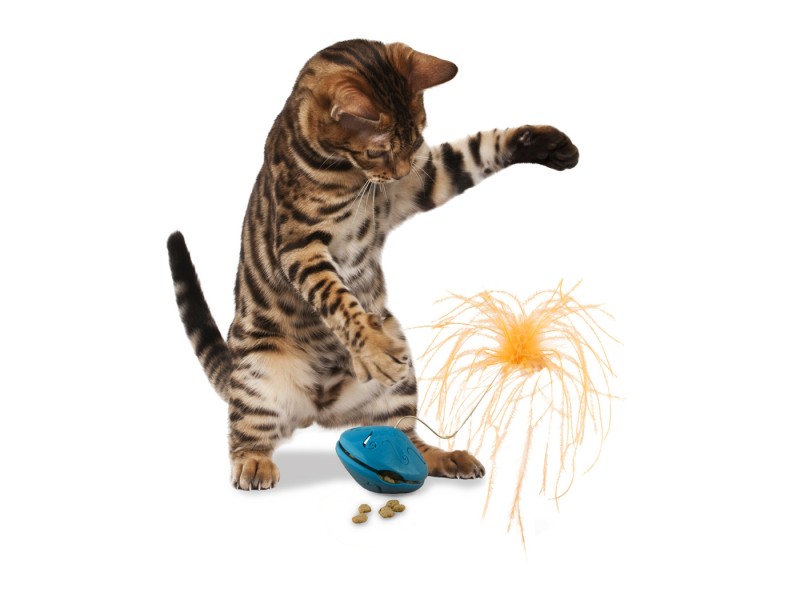 The added feather topper will entice your cat even more. It moves with a funky bobble and pops treats out as your cat plays. Twist apart the two halves of the toy and fill the center with your cat's favorite treat or dry food, then watch the fun! Tighten the halves to give your cat a challenge. Use it to treat your cat, or use it to feed meals for an easy weight loss solution. This deluxe version of the Twist 'n Treat is perfect for the cat who loves the standard Twist 'n Treat™ and is ready to have even more fun, for the finicky cat who needs incentives to play with a toy, and for the spoiled cat who gets the best of everything. In other words—it's great for every cat!
Key Features
Treat or food-dispensing toy
Attached feather teaser
Encourages playtime
Helps with your cat's weight loss
Adjustable openings to increase or decrease the challenge for your cat
Detailed instructions included
Features
Dishwasher safe, top rack only
The Twist 'n Treat twists apart to let you put small treats or dry food inside. You can adjust how easily the treats are dispensed. Start with an easy setting, allowing treats to come out quickly, so your cat associates the toy with a food reward. Once your cat has the hang of it, you can increase the level of difficulty by making the openings smaller. It will take your cat longer to get the reward, thus encouraging longer play time. This appeals to your cat's prey drive; your cat will feel like they're catching and eating their prey every time they play.