Dozens of Pet Companies Rally Together to Provide Food, Supplies and Medicine to Rescue Organizations, Evacuation Facilities and Pet Owners Impacted by Hurricane Harvey
In an unprecedented collaborative effort, pet store and veterinary hospital groups, manufacturers and distributors and associations and organizations within the pet industry are pooling their resources and working with lead disaster and shelter officials to coordinate logistics of providing much needed supplies including sharing warehouses, facilities and distribution centers for storage until affected areas can be accessed. They are also tapping resources to help provide vehicles and helicopters to assist with evacuations and providing financial assistance to rescue organizations.
The group has developed a public map of locations where open animal hospitals and supplies can be found and will regularly update as conditions change here: www.petleadershipcouncil.org.
"The Pet Leadership Council was founded just under three years ago, for this very reason; so that we as a united industry can work together on issues that affect the health and well-being of companion animals in our country," said Bob Vetere.  "Each and every one of the Pet Leadership Council members, as well as others in the pet community, are making Houston and surrounding affected areas a priority for them and we're aligning all of our efforts to ensure that we're all doing so in the most efficient manner."
"The needs of families and pets impacted by Harvey are still developing and we are very grateful for the outpouring of support from the pet industry," Cory Price, Animal Services Manager for the City of Irving. "All the supplies and resources being sent to help from so many companies will allow us to provide the essential items to care for families and their pets while they recover from this devastation. It's comforting for these families to know that they have the help and support they so desperately need right now."
Below is a current overview of the pet industry's animal assistance in Houston and surrounding areas, what the public can do to get involved and how those in need can access assistance provided.  These supplies will help shelters and pet owners with the long term recovery. Updates will be listed on the PLC website as efforts evolve and can be accessed in real time. www.petleadershipcouncil.org.
American Humane Association's animal first responders are leading two deployments in the disaster area: Orange Grove near Corpus Christi and The Woodlands near Houston. They are providing rescue rigs, rescue staff, and trained first responder volunteers. They are also accepting donation of funds or supplies to utilize for these efforts.
American Pet Products Association is coordinating efforts with more than 1,200 pet product manufacturers to solicit donations, supplies, and assist in animal care efforts.
The American Veterinary Medical Association (AVMA) is providing reimbursement grants for veterinarians volunteering to assist and its Board of Directors unanimously voted to contribute $100,000.00 to Hurricane Harvey relief efforts. Individuals wishing to directly support the efforts of veterinarians on the ground may donate directly to the AVMF. Visit AVMF.org/Donate and use the code "Disaster Relief."  Working with federal agencies, state veterinary medical associations, local colleges of veterinary medicine, AVMA members, industry partners, shelters and the public, the AVMA has created a comprehensive resource on its website which includes emergency hotlines, links to grant applications, and the latest information  on available shelters. This page is updated as new information becomes available.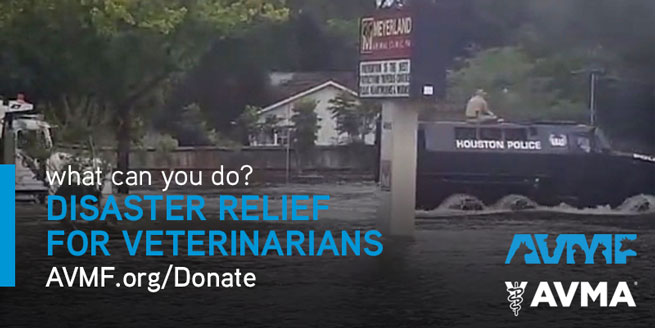 Banfield Foundation has announced 100% of donations made at Banfield Pet Hospital PIN pads through September, 1 will go toward Disaster Relief Grants for affected non-profit organizations specific to the area (apply online at BanfieldFoundation.org or by e-mailing info@BanfieldFoundation.com). The Banfield Pet Hospital is in communication with their partners Texas A&M Veterinary Emergency Teamwho has been deployed on site to assess the veterinary needs of impacted pets, American Humane, who is working with the local government to determine when they can go down to assist, and theAmerican Red Cross, who is providing updates on both the human and pet needs within their shelters.
Central Garden and Pet has dog, cat, reptile, equine and small animal supplies ready when needed.
Mars Petcare has deployed sponsored canine search and rescue teams from National Disaster Search Dog Foundation to the Austin area to help.  They're in close contact and are coordinating with non-profit partner, GreaterGood.org's Rescue Bank program to send more than 40,000 pounds of their food for pets in the area who are in immediate need of help. They're grateful for their program, which is working with FEMA to understand the need and deliver food where it is needed.
Pet Food Institute (PFI) members are working through their relationships with emergency relief organizations, foundations, partner shelters, and retailers to coordinate shipping of supplies and food to Texas.  PFI is helping to identify additional alternatives as current hub, Rescue Bank is currently inaccessible.
Pet Industry Distributors Association (PIDA) is working with their distributors with facilities in Texas to coordinate distribution centers.
Petco Foundation has committed $2.3 million with product donations or grant support to nearly 20 organizations affected directly by Harvey or those taking in animals from other locations. They will continue to provide additional resources to support the ongoing response to threats of flooding, and forthcoming recovery efforts. They are also collecting donations from vendors and staging at warehouse locations in Texas, with additional opportunity in Louisiana.   More information here.
Petmate, based in Arlington Texas, is donating needed supplies to shelters and rescue organizations in the Dallas-Fort Worth area, like the Humane Society of North Texas, SPCA of Texas and Rescue Bank Dallas, to aid in their efforts at housing thousands of displaced pets. They've also provided crates, kennels, leashes, blankets and more to several rescue teams and charity partners, like the MuttNation Foundation and Jackson Galaxy Foundation, which are making heroic and life-saving trips to Houston and the surrounding areas to transport pets out of the affected areas. Generous Petmate employees have also committed to collecting funds to donate to the American Red Cross on behalf of the company.
PetSmart Charities the leading funder of animal welfare in North America, has allocated an initial $1 million in emergency relief funding to assist animal welfare agencies working on the front lines to help pets and pet parents impacted by Hurricane Harvey.  Additionally, the organization is providing truckloads of pet supplies to the affected areas in Texas and is on track to deliver more than 100,000 pounds of donated pet food generated from PetSmart's Buy A Bag, Give A Meal™ philanthropic program in the next week.  For more information regarding the organization's Hurricane Harvey relief efforts thus far, please click here.  For more information on PetSmart Charities' emergency relief support, please visit www.petsmartcharities.org/pro.
Phillips Pet Food & Supplies is offering the use of their Arlington, Texas facility to store donated pet food and supplies that will be distributed throughout the areas affected by the hurricane. Phillips will utilize their fleet of trucks to transport and facilitate the delivery of requested supplies to relief organizations wherever needed. Based on the immediate needs that have been identified through the relief organizations, Phillips Pet Food and Supplies will be donating Dream Crates wire crates to help in the safe transportation of rescued and stray companion animals. The Phillips' Sales force in Texas is currently working with their customers to identify what the additional needs within the communities they service.
Spectrum Brands is donating batteries, flashlights, insect repellents, pet grooming and care products to assist with recovery efforts.
VCA Animal Hospitals  is providing an updated list of area hospitals that are open and offering free boarding and medication assistance as many area locations have been evacuated.  They are deploying extra antibiotics, medications and food to San Antonio and Dallas Texas mega shelters who are taking in thousands of pets including plane loads of transferred pets in need of shelter and medical attention.  VCA Doctors and medical teams are working on the ground and VCA Charities is fundraising through their hospitals via the Pennies for Pets program and 100% of all proceeds go to animal relief efforts http://www.vcacharities.org/donations.
World Pet Association is coordinating efforts with their members including manufacturers, retailers and distributors across the country in order to organize efforts and support immediate and ongoing needs in Texas.
For more information please visit www.PetLeadershipCouncil.org.