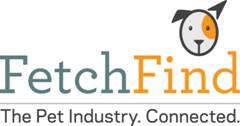 New York, NY – October 2, 2014 –The pet industry is one of the largest and fastest growing industries in the U.S. In fact, Americans are expected to spend $58.51 Billion on pet industry services and goods in 2014. This growth brings with it plenty of job opportunities as the demand for pet products and services increases. In addition, more training and certifications are necessary to ensure a qualified workforce.
FetchFind is the first platform to help pet industry professionals find qualified and dedicated employees. In addition, FetchFind.com will offer the opportunity for aspiring pet industry professionals to increase expertise through online learning modules, a feature that will launch soon, as well as locate job opportunities by browsing jobs posted to the site.  Additionally, FetchFind will offer high level recruitment services for c level and sales type positions for the pet industry.  There is a profound need to raise the educational and professional standards in the industry, and FetchFind will do just that while helping to keep the pet community connected.
Plus, FetchFind offers the pet industry's first ever cross-vertical credentialing system!  The FetchFind certified badge system helps candidates distinguish themselves and enables businesses to find employees with the right experience. Badges include "The Brand Whisperer" for Sales and Marketing Executives or "Leader of the Leash" for Dog Walkers, "Curator of Fine Furs" for Pet Grooming Experience to name a few. Pet lovers and job seekers can soar to new heights in prospective careers while business owners can grow their team with a diverse workforce.You can learn more at http://fetchfind.com.
"To share our new career and networking website with individuals and businesses who are passionate about the pet industry is an exciting and fulfilling opportunity," says Founder and Chief Fetcher at FetchFind, Jamie Damato Migdal.
Jamie Damato Migdal is in the process of launching yet another industry-changing company called FetchFind. FetchFind.com is poised to become the premier job matching destination for the pet industry. FetchFind is the culmination of Jamie's two decades of experience in the industry, where she collaborated with both sole proprietors and multi-million dollar pet care corporations. As the pet industry has been growing by leaps and bounds in recent years, it has been increasingly difficult for employers to find and keep quality employees.  And, it is hard for pet professionals to move ahead in their careers. That's where FetchFind comes in.  FetchFind gives pet businesses and pet professionals a place to connect and grow. In addition to offering career matching services, it will offer robust tools that enable them to increase knowledge and service offerings.  This will include an innovative badging system to help pet professionals distinguish themselves.  The FetchFind site is currently in Beta form, but has a growing list of paid pet care jobs posted for those looking work in the industry.
The esteemed FetchFind Advisory Board includes outstanding business leaders in technology; Alan Cook, Consumer product, technology and design expert; Saq Nadeem, CEO of Paradise4Paws and awarded 2013 IL Small Business Person of the Year; Paulette Solinski, Attorney & Dog Trainer; Stacy Ratner, Founder of Open Books; and David Weinstein, Founding President of the Chicagoland Entrepreneurial Center and featured as a 2014 Top 50 Tech Leader in Chicago.
 ###
About FetchFind
FetchFind is the professional certification and career networking site for the pet industry. Learn more at: http://fetchfind.com/. Facebook: https://www.facebook.com/FetchFind.
Twitter: @fetchfind and @HeyFetchy.
Media Contact:
Dana Humphrey
Cell: 619-414-9307