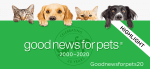 Editor's Note: As we continue our celebration of Goodnewsforpets.com's 20th anniversary , with Zoetis' new Pumpkin pet insurance in the news, we reflect on how the category has grown — and changed.  This article was first published October 1, 2008 with the launch of the North American Pet Health Insurance Association (NAPHIA). The need is greater than ever in the COVID-19 environment and the adoption of pets. Watch for more coverage as we move forward! To learn about today's NAPHIA, visit the website here.
In today's tough economic climate, many pet owners simply don't have the disposable income to cover emergencies or even minor pet care. That's a lesson that the Carlsons can share with pet owners. Avid pet lovers, the Calgary couple have adopted three animals from their local animal shelter: Yurgo, a 7 ½-year-old female Mane Coon feline; Spaz, a 6 ½-year-old domestic orange hair cat, and Lola, a 2-year-old Collie/Pekingnese dog.
When Lola ate chocolate cake, James and Lori Carlson cleaned up quite a mess. Chocolate can be quite poisonous for dogs so the Carlsons quickly realized that their female companion needed some serious medical attention.
Several tests, X-rays, blood work, an overnight stay for observation and more eventually gave Lola a clean bill of health but a bill of more than $1,000. The Carlsons, though, breathed easier. Four years earlier, they made a decision to buy pet insurance so all but a small percentage of Lola's care was covered.
They decided to buy insurance to ensure that finances wouldn't dictate necessary care for their beloved pets.
""We heard lots of people say to just put aside so much each month for pet care,"" says James Carlson. ""Unfortunately, none of them really ever get around to doing this, and we didn't want to be in that position, either. Paying the premiums every month allows us not to worry if any of our pets get sick or hurt. And we certainly didn't want to make a tough decision when the time came.""
That's precisely the value and reason why many pet owners should give some thought to purchasing protection, said Darryl Rawlings, then president of the North American Pet Health Insurance Association (NAPHIA).
"The likelihood of people having the funds available to care for their pets has been dramatically reduced. More than ever, the likelihood of financial euthanasia has become a serious problem and an alarming decision that pet owners need not face. That's a big leap from compassionate euthanasia," Rawlings cautioned.
Veterinarians see families face such economic issues. It's painful and stressful for pet owners.
""I have been a veterinarian for 21 years,"" sais Dr. Robin Downing, who operates the Windsor Veterinary Clinic in Windsor, CO. ""Every veterinarian at some point encounters 'economic euthanasia.' I believe that pet insurance is the single biggest protective device against 'economic euthanasia,'"" Dr. Downing noted.
Deninne Stevens saw firsthand how pet owners can be torn between care and finding the finances to pay for pet care. She took her dog into the emergency room at 2 a.m. but knew that pet insurance would cover the majority of the necessary care.
"I saw another man holding on to his dog and realized he could not afford the medical assistance that the dog needed,"" says Stevens, the proud owner of Ms. Piggy. ""I am so grateful that I didn't have to make that choice between financial obligation or not having the work that was needed for my 'other family member,'" says the Lake Forest, CA, pet owner.
Both Stevens and Dr. Downing understand that pet insurance provides protection and shouldn't be considered an investment. One of the biggest misconceptions is that pet insurance is an investment. It's not, Rawlings cautioned. Rather it provides protection against financial stress should a dog or cat need care.
"Insurance shouldn't be bought for a return. If you want a return, buy a T-bill or CD," he says. "Instead, people who can't afford to pay for a $5,000 or $10,000 surgery or treatment really need to weigh the risk of not having their pets covered. Caring for a pet shouldn't affect a family's ability to eat, pay their mortgage, buy gas, outfit their children with new clothes or take a vacation."
"Just as with human healthcare, pet care has advanced dramatically over the past few years," Rawlings add.ed "An ultrasound and scan weren't even considered for pets in the past. Advanced care ultimately ensures that pets can be treated and lead healthier lives. Pet insurance is one way to prepare for the future and the unknown costs of such care."
Pet care costs can mount up quickly. A knee replacement for a dog can easily run $4,000. A hip replacement – $5,000. Some owners face veterinarian bills of $25,000 to treat cancer in their pets. That's not a scare tactic but the simple reality of the cost of caring for pets.
Scale it down to a serious bump or a sliced pad on a dog's paw, Rawlings noted. Many pet owners often delay care for financial reasons. ""Some people avoid going to the vet because of the cost. If you wait too long, it becomes even more expensive. Early detection, diagnosis and treatment are much less costly."
Expenses for adequate pet care can mount up quickly, noted Dr. Yvonne Wikander, a veterinarian in the Pampered Pet Clinic in Hillsboro, OR. "Regardless of the financial means of the pet families we care for, the reality is that veterinary care can become expensive when there is an unexpected issue that requires needed care,"Dr. Wikander says. "As responsible pet owners, correct and comprehensive insurance is highly recommended and will not only increase the health and happiness of the pet but it will protect the financial security of the family."
Pet owners can share stories of how insurance made the difference in providing the right care for their companions.
Megan Barton of Corvallis, OR, nearly lost Gup, her prized dog, because of an intestinal blockage, "I wouldn't have been able to afford the $2,500 surgery and additional costswithout pet insurance."
Francesca Schrick's dog, Lexi, needed several surgeries on her leg. Insurance helped the San Jose, CA, resident care for Lexi. "You can be the most careful pet owner but accidents happen, and you never know when they will."
Kate Cross got such a scare when Clutch, the family's dog, chewed up an antifreeze bottle. Clutch was then only five months old and fortunately was fine. She realized that pet insurance would be a good way to prepare for future unforeseen events.
"Less than two months later, she jumped out of the truck bed and broke her leg,"Cross said. Insurance covered most of the cost and gives the Cross family "peace of mind," she noted.
With two senior pets, Lisa Porter of Foothill Ranch, CA, worried about the cost of care but bought pet insurance to remove such fears. "It is so comforting to know that as things creep up on these aging animals, I won't be forced to make a decision because of financial reasons."
The Carlsons know this firsthand, too. Since buying pet insurance, the Carlsons have made additional trips to the veterinarian's office for kidney stones, asthmatic problems and Lola's appetite for chocolate cake.
Each time, the bills were covered by insurance, Carlson says. While they paid the bills upfront, they were reimbursed for the expenses less deductible, he notes.
But that's not the only reason why the Carlsons appreciate their pet coverage. First and foremost, they simply love their pets. When it comes time to provide care, they prefer not to make important decisions based on finances.
"It certainly makes it easier to make a decision knowing that most of the cost is covered," Carlson says. "Plus, we can leave home and have someone else care for our pets without worrying what happens when we are gone. Our pet sitters can simply do what's right and necessary without worrying about the cost."
Emergence of Pet Insurance
These are typical pet owners. They love their pets. But they aren't typical in their decision to buy insurance. In 2008, less than 2 percent of pet owners in Canada and the United States were covered by pet insurance. That's a far cry from the United Kingdom, where one-fifth of pet owners found pet insurance provides financial protection.
Such insurance in North America, though, has grown at a rapid pace. According to Packaged Facts, the market grew from $205 million in 2006 to $248 million in 2007. Since 2003, the market among the 11 U.S.-based and two Canadian-based pet insurers has more than doubled.
This growth parallels increased awareness among North American pet owners. In 2005, only 5 percent of North American pet owners knew that pet insurance was available. In 2008, 20 percent of consumers had knowledge of pet insurance. This growing awareness among North American pet owners has the industry on track to generate more than $1 billion by 2012.
Educating Pet Owners
As the nascent pet insurance market took off in North America, insurance leaders wanted to make sure the industry not only raised awareness but educated pet owners on the true value of coverage. Four companies launched NAPHIA to dispel misconceptions, educate pet owners and set standards to ensure that pet owners are protected.
Pet protection brings peace of mind when confronted with the options for care, noted Jack Stephens, a veterinarian and a founding member of NAPHIA.
""We want clients to accept the best treatment option not the least expensive or one that may cause other problems for their pet down the road,"" Stephens said at the time. ""We firmly believe that pet insurance allows clients to make the right decision by choosing the best care option.""
Naphia standards are designed to ensure that pet owners can have confidence in their insurance provider, Rawlings says. He also encouraged pet owners to speak with their veterinarians, friends and other pet owners for recommendations.
It's also important to buy the right coverage. As with any insurance, pet owners can trade off the costs of premiums for what is and isn't covered. Ask questions about congenital and hereditary issues common with certain breeds, deductibles, waiting periods and the level of care provided. Some policies cover preventative care while some only cover injuries and illnesses that fall outside routine care such as vaccines. Pet owners can opt for coverage of both.
In the end, choosing the right pet insurance provides financial security and peace of mind. Just ask the Carlson, Barton, Stevens, Schrick, Porter and Cross families. They understand that pet insurance enables them to make the right decisions without breaking the bank or worse.
Originally published October 1, 2008, updated May 1, 2020.