Groundbreaking project expands model spay/neuter training program nationwide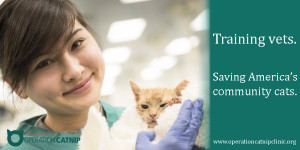 Gainesville, Fla., March 9, 2015 – An innovative Florida program that has been spaying, neutering, and vaccinating unowned cats since 1998 is about to share its successful model with the nation.
Founded by Dr. Julie Levy, director of the Maddie's Shelter Medicine Program at the University of Florida College of Veterinary Medicine, the trap-neuter-return (TNR) program known as Operation Catnip has been running free high-quality, high-volume spay/neuter clinics for community cats in Gainesville for more than 16 years.
Since its founding, the organization has cared for more than 45,000 cats. In 2014 alone, they helped 2,693 cats and prevented the births of a projected 6,142 kittens who might have been born to the now-sterilized cats in the first year following surgery.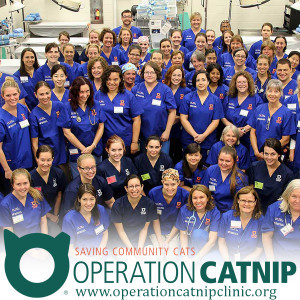 Now, thanks to an educational grant from PetSmart Charities, they're making their training program and materials available to veterinarians, veterinary students, and veterinary technicians from all over the U.S.
"Our vision is to train an army of veterinarians to spay and neuter America's community cats," said Levy. "This approach, along with vaccination, will allow us to reduce cat population, control infectious diseases, and improve the lives of the cats."
Operation Catnip clinics are operated along the lines of a MASH unit. The cats are trapped by community members then brought to the clinic, where they're cared for in stations staffed by volunteer veterinarians, veterinary technicians, and veterinary students. Each cat is examined, spayed or neutered, vaccinated against infectious diseases, treated for fleas and other parasites, given an identifying ear tip, allowed to recover, then returned to the location where she or he was trapped.
Program veteran Dr. Catherine McManus is now operations manager for Dallas Animal Services, which recently made news for providing care for Bentley, the dog of nurse Nina Pham, during his Ebola quarantine.
"Dr. Levy's mentoring and the work she was doing inspired me to complete a shelter medicine residency," McManus said. "That education and experience have made it possible for me to do the work I do today here in Dallas, including being an advocate for community cats and TNR."

Another veterinarian who found the Operation Catnip experience life-changing is Dr. Amy Karls, who volunteers her services with four different community cat organizations in Massachusetts in addition to her fulltime veterinary career.
"I was able to bring everything I learned back to our local rescue and TNR groups," said Karl. "It was truly wonderful to see so many people united for the common goal of improving the lives of the homeless cat population."
To learn more about Operation Catnip, or sign up for one of their upcoming training sessions, visit www.operationcatnipclinic.org.
Operation Catnip is a 501(c)(3) nonprofit project dedicated to saving the lives of community cats by providing community-based high-quality, high-volume spay/neuter services as well as training opportunities for veterinary professionals and students from across the U.S. Visit operationcatnipclinic.org for more information.
PetSmart Charities is a nonprofit animal welfare organization that saves the lives of homeless pets. More than 400,000 dogs and cats find homes each year through their adoption program in all PetSmart® stores and their sponsored adoption events. PetSmart Charities grants more money to directly help pets in need than any other animal welfare group in North America. The focus is on funding spay/neuter programs that help communities solve pet overpopulation. PetSmart Charities is a 501(c)(3) organization, separate from PetSmart, Inc.
###
Contact:
Dr. Julie Levy
levyjk@ufl.edu
352-258-6658
Media assets: www.operationcatnipclinic.org/media/
Contact information for veterinarians trained by Operation Catnip, including those quoted in this release, is available on request.