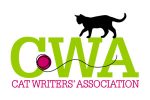 Following is the list of CWA Contest Covering 2017 Special Award Winners. Congratulations to all winners. The CWA thanks all sponsors for the tremendous support as the organization celebrates its 24th Annual Banquet.
For a recap of the event, check out the Facebook stream  and follow Cat Writers on Instagram at @catwriters_com
Plans are already underway to celebrate at the 25th Annual Banquet. Stay tuned!
01 AAFP CAT FRIENDLY AWARD
Winner: Susan Willett
$500
================================================================
02 CATALYST COUNCIL CONNECTION AWARD
Winner: Layla Morgan Wilde
$500
================================================================
03 CWA COUNCIL NEWCOMER BLOGGER'S HOME-ENRICHMENT AWARD
Winner: Yasaar Nakchbendi
$500
================================================================
04 DR. JIM RICHARDS CORNELL FELINE HEALTH CENTER VETERINARY ISSUES AWARD
Winner: Kim Thornton
$500
================================================================
05 FEAR FREE PETS AWARD
Winner: Ramona Marek
$2,000
================================================================
06 FEAR FREE CAT ENRICHMENT AWARD
Winner: Deborah Barnes
$2,000
================================================================
07 GoodNewsForPets.com HUMAN-ANIMAL BOND AWARD
Winner: Deborah Camp
$1,000
================================================================
08 HARTZ® EVERY DAY CHEWABLE VITAMIN AWARD
Winner: Deb M. Eldredge, DVM
$500
================================================================
09 HARTZ® GLAMOUR-PUSS AWARD
Winner: Deb M. Eldredge, DVM
$500
================================================================
10 HARTZ® MILK REPLACEMENT FOR KITTENS AWARD
Winner: Bernadette Kazmarski
$500
================================================================
11 KARI WINTERS RESCUE AND REHABILITATION AWARD
Winner: Cori Solomon
$500
================================================================
12 KUYKENDALL IMAGE AWARD
Winner: Karen Nichols
$500
================================================================
13 LORIE HUSTON HEALTH AWARD
Winner: Lyn T. Garson
$500
================================================================
14 SLEEPYPOD® TRAVELER AWARD
Winner: Denise Fleck
$500
================================================================
15 SmartCat ALL NATURAL LITTER TRAINING AWARD
Winner: Jacqueline Munera
$1,000
================================================================
16 WORLD'S BEST CAT LITTER-ARY AWARD
Winner: Lisa Annette Powell
$500
================================================================
17 SHOJAI MENTOR AWARD
Winner: Denise Fleck
$500
================================================================
18 MICHAEL BRIM DISTINGUISHED SERVICE AWARD
Winner: Kate Benjamin
$500
================================================================
19 PRESIDENT'S AWARD
Winner: Sandy Lerner
$500
================================================================
20 PETSAFE SCHOLARSHIP AWARD
Winner: (name will be drawn at this conference)
$500
================================================================