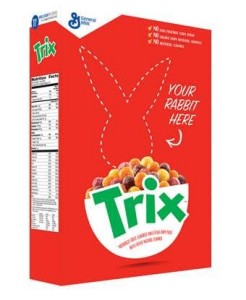 Move over grumpy cat, there's going to be a new furry friend in town!
General Mills is rolling out a three-week open casting call to find one real rabbit to be featured as the honorary face of Trix. Pet bunnies from across the country could be the #RealTrixRabbit and appear on limited run boxes in the winner's hometown. Kids, parents and family members are invited to snap pictures or take videos of their pet bunnies or other furry friends – and upload them to the www.RealTrixRabbit.com now through November 6th – for a chance to win the #RealTrixRabbit appearance on limited edition Trix cereal boxes.
Learn more about the search for the next #RealTrixRabbit here: http://www.multivu.com/players/English/7664051-real-trix-rabbit/
The search for the Real Trix Rabbit is a fun way to celebrate the arrival of the updated Trix cereals hitting store shelves this January. As part of General Mills' Cereals commitment to removing artificial flavors and colors from artificial sources from its entire portfolio of cereals, the reformulated Trix recipe will have ingredients like fruit and vegetable juices and spice extracts such as turmeric and annatto to achieve the fun red, yellow, orange and purple colors while delivering the same great taste that adults and children have always enjoyed.