June is Adopt-A-Shelter-Cat Month and Cat Town Cafe, a unique cafe and cat adoption center, is celebrating with a "Kittens and Cocktails" event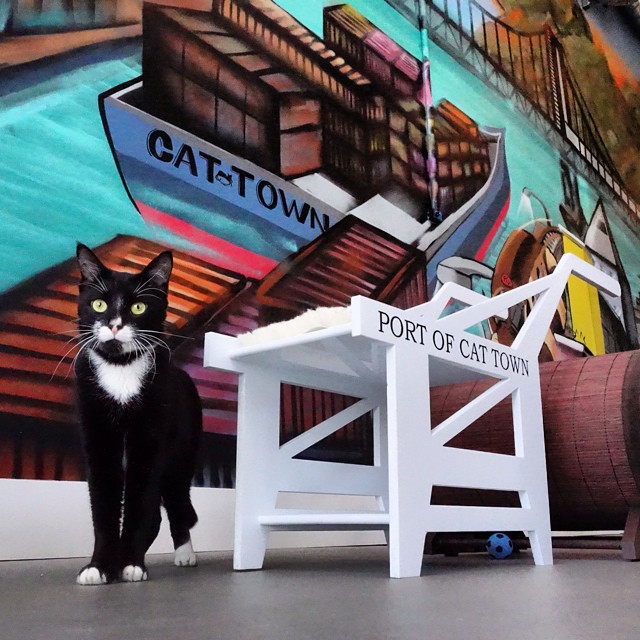 Oakland, CA (June 12, 2015) – Oakland's own Cat Town Cafe will celebrate Adopt-a-Shelter-Cat Month with a special fundraising event and cat product giveaways provided by Worldwise, a San Rafael-based pet product manufacturer.
On June 19 the Cat Town Cafe will hold its first ever "Kittens and Cocktails" fundraiser. This special event will provide participants the chance to mingle with some fabulous felines while enjoying cocktails, cat-themed activities and raising funds for Cat Town Cafe's planned expansion. The event is also part of the larger Saving Pets Challenge, which is a crowdfunding effort to raise money for animal charities nationwide, with the top fundraising organizations getting additional funds from the sponsor Found Animals.
"We are excited for our first "Kittens and Cocktails" event," says Ann Dunn, founder of Cat Town and co-founder of the Cat Town Cafe. "The money raised through the event and our Saving Pets Challenge page will go towards a planned expansion of our adoption center as well as establishing an emergency medical fund. Both will help us save many more cats"
The celebration will continue throughout June because with every cat adopted from the café during Adopt-a-Shelter-Cat Month, Worldwise will give a pack of cat goodies including toys, catnip and scratchers from their successful Petlinks®, SmartyKat® and kathy ireland® Loved Ones brands to the cats' new forever families.
Founded in 2014, Cat Town Cafe was the first cat café established in the US, with the express mission of finding homes for adoptable cats. Cat Town, the organization that established and runs the café, has been finding homes for cats since 2011, with an emphasis on cats that do not thrive in Oakland's municipal shelter. With Cat Town's help, the euthanasia rate in Oakland's shelter has been reduced by more than 50%.
To purchase tickets to the Kittens and Cocktails event or make a donation to Cat Town Cafe's Saving Pets Challenge fund, please visit https://www.crowdrise.com/ct-savingpets2015/fundraiser/kittensandcocktails.
The Cat Town Cafe is located at 2869 Broadway, at 29th Street, in Oakland. The cafe is open from 9:30 a.m. to 7 p.m., Wednesday to Sunday, while the Cat Zone is open from 10 a.m. to 7 p.m. Wednesday to Sunday. More information can be found at www.CatTownCafe.com.