Animal Care & Control of NYC benefit raises funds for shelter dogs
NEW YORK, December 9, 2014 – Animal lovers gathered at City Winery on December 5 to honor individuals and organizations who have helped change the lives of NYC animals in need, and to raise funds for Animal Care & Control of NYC (AC&C), a nonprofit that takes in approximately 30,000 animals from across the five boroughs each year. 1010WINS Midday Anchor Susan Richard emceed the second annual New York's Kindest Dinner & Awards, which was co-chaired by David Zyla—Emmy® Award-winning stylist and best-selling author—and Kevin de l'Aigle—longtime AC&C volunteer, donor, and adopter. 
Proceeds from the event, which raised more than $95,000, will be used to design and build backyard playgrounds at AC&C's Brooklyn and Manhattan Care Centers and promote dog socialization and enrichment while in AC&C's care. Adding to the excitement of the evening, AC&C Executive Director Risa Weinstock also announced at the event that The Bloomberg Sisters Foundation contributed $100,000 to AC&C to support the renovations of the backyard space and facilitate the project.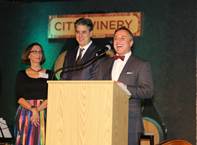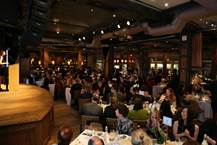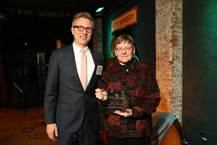 Above, top to bottom: AC&C Executive Director Risa Weinstock with honorees Jeff Wolk and Rob Anzalone of FENWICK KEATS Real Estate;Emcee Susan Richard addresses guests at City Winery; AC&C Chairman Patrick Nolan with Jane Hoffman of The Mayor's Alliance for NYC's Animals, which was honored for its Wheels of Hope transport program.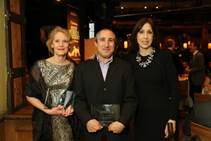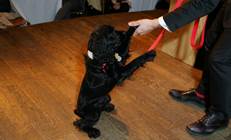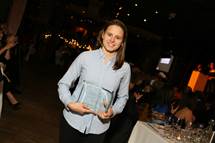 Above, top to bottom: Honorees Kathryn Willis of Anjellicle Cats Rescue and David Glicksman, AC&C volunteer, with emcee Susan Richard; co-chair Kevin de l'Aigle's dog Archie, adopted from AC&C; honoree Carly Strife of BarkBox.
"We're so grateful to our honorees, and all our supporters and partners, for coming together to make a difference for animals in NYC," said Weinstock. "We recently introduced dog playgroups at AC&C to provide better enrichment and exercise for our canine residents. New play areas will enable us to take full advantage of what playgroups have to offer, and improve the wellbeing of thousands of shelter dogs each year. We couldn't do it without you, without New York's Kindest."
"Animal Care & Control of NYC depends on both support from the city and the generosity of donors," said Patrick Nolan, AC&C Chairman and Vice President, Editor in Chief & Associate Publisher of Penguin Books. "I'm delighted to see so many people, including several of last year's honorees, here tonight. Thank you to our honorees, to this evening's sponsors, and to all those who are committed to helping animals in NYC."
About 200 people gathered for the event, including Manhattan Borough President Gale Brewer, who came by to offer her support and appreciation for AC&C.
Guests enjoyed a cocktail reception, live music, silent and live auctions (the latter led by Toby Usnik, Chief Corporate Social Responsibility Officer & International Director at Christie's auction house), special appearances by adorable dogs, and a dinner and awards ceremony honoring the following New York's Kindest:
FENWICK KEATS Real Estate – Rob Anzalone, CEO and Jeff Wolk, COO have been finding homes for NY'ers for twenty-five years, and are committed to finding shelter animals a good home, too. Their substantial funding of AC&C's first ever Mobile Adoption Center enables AC&C to bring hundreds of dogs and cats ready for adoption to neighborhoods across the five boroughs. The company has continued to support AC&C through multiple adoption events, funding for free adoptions and other promotions.
BarkBox — Matt Meeker, CEO; Henrik Werdelin, Chief Creative Officer; and Carly Strife, COO and the team at BarkBox have partnered with AC&C to help drive adoptions of pit bulls and raise awareness to debunk the myths that prevent these great companion animals from finding "furever" homes. BarkBox created the NY Pit Bull Appreciation Society, donating a free "BarkBox" to every pit bull adopter from AC&C, and has supported adoption events like the "Pit Bowl" and other awareness campaigns.
Anjellicle Cats Rescue (ACR) is an all-volunteer organization that began in NYC's Hell's Kitchen over 20 years ago. Dedicated to rescuing, rehabilitating and finding homes for NYC's homeless cats and kittens, ACR, one of AC&C's invaluable New Hope partners, has taken in over 1,000 cats and kittens from AC&C this year alone.
David Glicksman is a CPA and Director of Finance at a law firm in lower Manhattan by day, but on weekends and evenings he is an indispensable volunteer for AC&C, logging close to 500 hours volunteering at countless adoption events, on AC&C's Mobile Adoption Center, as a spokesperson for AC&C on NBC, and as a member of AC&C's outreach effort.
Mayor's Alliance / Wheels of Hope Transport Program is comprised of a compassionate, tireless team and six specially outfitted vans that transport animals directly from AC&C to rescue groups and fosters 365 days a year, at no charge. Since 2005 Wheels of Hope has been the driving force (literally) behind the movement of nearly 80,000 dogs, cats, rabbits, and other animals from AC&C to the animal rescue community. Nearly 14,000 animals were transported in 2014, freeing up space and valuable resources at the shelters.
The New York's Kindest Dinner & Awards was named for AC&C's New York's Kindest ad campaign, which features AC&C adopters, volunteers, and donors with the cats and dogs they love, and aims to get more New Yorkers involved in helping homeless animals.
Last year's honorees were New Leash Productions, the team behind the campaign; Julie Morris, Heidi Miller, Michelle Villagomez, and Gail Buchwald of the ASPCA; Yonaton Aronoff, Esq. and Adam Pence, Esq., of Foley & Lardner, LLP; adopter and longtime volunteer and donor Kevin de l'Aigle; and Sean Casey Animal Rescue, an AC&C New Hope partner.
About Animal Care & Control of NYC
Animal Care & Control of NYC (AC&C) is one of the largest animal welfare organizations in the country, taking in approximately 30,000 animals each year. AC&C is a 501(c)(3) nonprofit that rescues, cares for and finds loving homes for animals throughout the five boroughs. AC&C has a contract with the City of New York to be an open-admissions organization, which means it never turns away any homeless, abandoned, injured or sick animal in need of help, including cats, dogs, rabbits, small mammals, reptiles, birds, farm animals and wildlife. It is the only organization in NYC with this unique responsibility. Visit www.nycacc.org for more information, and follow AC&C at facebook.com/NYCACC and @NYCACC.