Pet Waste Bag Dispensers + Bags Help Keep Environment Clean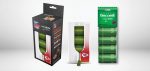 It's Earth Day and time to make sure you've got plenty of poop bags in stock to clean up after your pet to keep the environment clean. Gather up that poop and show your football team loyalty year-round with the NFL-Licensed PoopChute for Little Earth Productions.  Now NFL fans have the opportunity to pair a dog waste bag dispenser emblazoned with the logo of their favorite team with USDA Certified Biobased pet waste bags featuring a spirited green gridiron design.
PoopChute is a first-of-its-kind, patented, in-home dog waste bag organizer/dispenser that mounts by the door, leash closet, garage, porch, or pool area with removable tape—conveniently releasing one bag at a time. PoopChute has been awarded the Amazon Choice distinction.
The NFL-Licensed PoopChute for Little Earth Productions is available in all 32 NFL teams. Each PoopChute features official team logos and colorways and also comes with four free rolls of EndZone Pet Waste Bags. While the Original PoopChute was developed specifically for dog owners, it has quickly become an essential household tool for all kinds of pet owners—if a pet poops, PoopChute makes waste disposal a breeze.
The NFL-Licensed PoopChute for Little Earth Productions officially launched at the Sports Licensing and Tailgate Show in Las Vegas, and is available via Amazon and retail stores.
This post has been updated and originally appeared January 19, 2019.