Canine Water Safety Tips With The AKC Floatation Vest!
Got Water? Get a life jacket for your dog. It's as simple as that!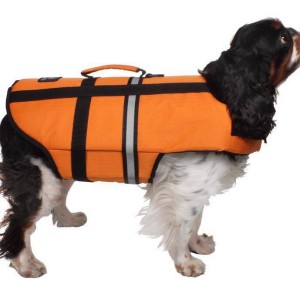 BROOKLYN, N.Y. – Feb. 17, 2016 – As spring and summer approaches, dog water safety is an important thing to consider, as dogs can drown in just minutes! Water activities can be a great source of fun for you and your canine; however before taking your pooch out for a paddle, preparing for the adventure is a must.  It is estimated that thousands of pets lose their lives in drowning accidents each year. A majority of these incidents could have been prevented.
Many people assume that swimming is a skill that all dogs naturally have. In reality, while most pups instinctively make a paddling movement once they are in the water, some dogs tend to sink when submerged. Water can be a dangerous place if you're unprepared, which is why all pet parents must follow these simple water safety tips to insure that you and Rover have smooth sailing in water of all kinds.
Got Water? Get a life jacket for your dog. It's as simple as that! Any time your dog is near fast moving water, on a boat, or playing in the ocean, they should have a life vest on. Even strong water breeds can get caught in a riptide, current, or fall overboard, just like us.
A good life vest will have quick release buckles, and, most importantly, a large nylon handle on the top of the vest to make it easier to snatch your dog out of the water. Have your dog wear the vest at home to ensure that it not only fits correctly but to also give your dog time to get used to it. You don't want him battling his life vest as he is trying to swim to safety.
The AKC Flotation Vest is a great option. This vest is available in two vibrant colors, orange and yellow and retails for just $29.99. AKC Floatation Vest comes in XS, S, M, L and XL, 'paw-fect' for dogs of all sizes!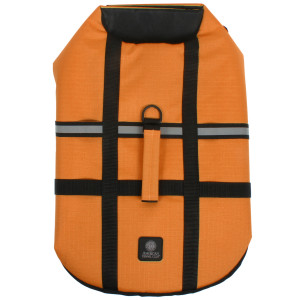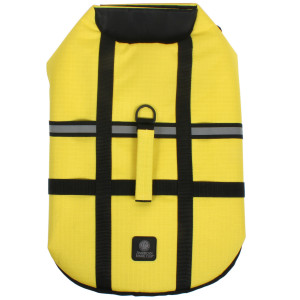 Some Rules for the Pool! Unless your pool cover is strong enough to hold your body weight, then your dog should NEVER be allowed near your covered pool. If your pup falls in, he will either get tangled in the cover or lose his bearing if he slips underneath. If your dog must be left unattended while your pool has this type of covering, then install a fence. It may cost extra money, but your pup's life is priceless.
Paws Aboard! If you are taking your dog on a boat with you, he should always have a safe place to be. Boat decks are slippery, especially for paws. AKC Paw Tech Dog Boots are stylish, comfortable for Fido, and have a non-skid rubber sole, which helps to protect your pup from sliding. Learn more about AKC Paw Tech Dog Boots here: http://pawtech.com/.
If the boat is underway, keep your dog on leash and stay with him. We can see what turns are coming however he can't, and a quick shift in direction can send even the most sure-footed pup overboard.
Beach Life Can Be Ruff! Once again, a life vest is a must when heading out to sea. It's always best to steer Fido toward calmer waters, away from speedboats and rough surf. Try to find a lifeguard to ask about current water conditions and scan the area for possible danger spots.
Your pup may think of the ocean as a giant water bowl, but try to keep him or her from guzzling too much salt water. This can lead to vomiting, diarrhea and dehydration. Instead, bring plenty of fresh, clean water to quench your dog's thirst.
Whether you're enjoying the nice warm weather at the beach, lake or pool, being prepared with the right swim gear is essential. Before diving in, pet families must keep in mind these water safety precautions in order to get a head start on the swimming season!
About BH Pet Gear: BH Pet Gear specializes in the design development and manufacturing of quality pet products and accessories. Our product groups include: Dog Apparel, Dog Beds, Leashes, Collars, Harnesses, Bowls, Toys & More. Our mission is to bring high performance pet products to the retail market at consumer friendly prices. Working on both private label and licensed programs BH Pet Gear's products can be found across the United States at most of the country's top retailers. To learn more, visit: http://bhpetgear.com/ or http://www.calming-coat.com/.