Celebrating the human-feline bond with all its joys, mysteries, and life-changing moments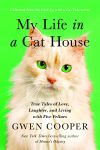 Gwen Cooper—author of the blockbuster international bestseller Homer's Odyssey: A Fearless Feline Tale, or How I Learned About Love and Life With a Blind Wonder Cat—returns with the ongoing adventures of her much-beloved, world-famous fur family. Ideal for new readers and longtime fans alike, this memoir is filled with all the humor and heart Gwen's devoted readership has come to know and love.
An adorable, five-week-old rescue kitten slowly learns to trust the woman who saved her. An obsessive cat teaches himself to play fetch and demands it morning and night from his hapless mom—whether she's working, sleeping, eating, bathing, or trying to enjoy some "alone time" with her husband. And Homer, the Blind Wonder Cat himself, returns triumphant in a new story about life and love after worldwide fame.
Read all eight stories in one sitting, or savor each gem of a "tail" on its own. My Life in a Cat House will leave you laughing out loud, shedding an occasional tear, and hugging your own cat a little bit closer.
Published by BenBella Books, Inc. ISBN: 978-1-946885-54-8 eBook ISBN: 978-1-946885-65-4 Price: $21.95 US / $28.99 CAN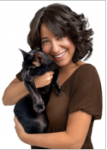 GWEN COOPER is the New York Times best- selling author of the memoirs Homer's Odyssey: A Fearless Feline Tale, or How I Learned About Love and Life with a Blind Wonder Cat and Homer: The Ninth Life of a Blind Wonder Cat; the novels Love Saves the Day and Diary of a South Beach Party Girl; and the crowd-sourced collection of "cat self- ies," Kittenish (a send-up of Kim Kardashian's Self- ish), 100% of the proceeds from which were donated to support animal rescue in Nepal following the 2015 earthquake. Her work has been published in nearly two-dozen languages and territories around the world. She is a frequent speaker at shelters and fundraisers, and donates 10% of her royalties from
Homer's Odyssey to organizations that serve abused, abandoned, and disabled animals. Gwen lives in Manhattan with her husband, Laurence. She also lives with her two perfect cats—Clayton the Tripod and his litter-mate, Fanny—who aren't impressed with any of it.  She is a member of the Cat Writers' Association.