It's not like National Veterinary Technician Week stirs up celebrations and galas among other veterinary professionals and pet owners nationally.
But the annual October event (11-17 this year) should serve as a wake-up call to small-animal hospital clients everywhere as to the versatility and dedication these individuals exhibit daily.
Dan Swenson, CVT, president of the approximate 13,000-member National Association of Veterinary Technicians in America (NAVTA), says, "I hope this week prompts owners to recognize that we do make a difference. We are a vital part of the team that treats your animal but in many cases clients simply don't understand our role."
Swenson, department chair of the Veterinary Technician Program at Brown Mackie College in Boise, Idaho, is well-equipped to address all aspects of the profession, both as an educator and a full-fledged veterinary technician in the field.
"Our Passion Shows With Every Species We Touch" is NAVTA's slogan this week. "That captures the flexibility required in our profession," Swenson says. "How many others would require a widespread knowledge of multiple species such as snakes, cats, dogs, gerbils, birds, etc., under one roof?"
Swenson is driven to some extent by an incident in a veterinary hospital years ago when a client said, "I don't want to talk to you. I want to talk to the vet." An interaction like that might prompt some to lash out or show some disdain toward the pet owner. For Swenson, it opened the door to briefly explain his key role on the treatment team.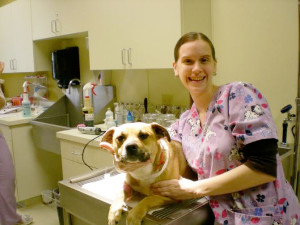 So what are some of the key attributes required of a veterinary technician? "We're treating animals, but equally important we must be able to interact well with people, too. That pet would not have reached the hospital without a caring, concerned owner. Consequently, personality and communication skills rank right alongside technical expertise in our profession."
On the latter front, veterinary technicians are educated to be the veterinarian's nurse, laboratory technician, radiography technician, anesthetist, surgical nurse and who knows what else.
While the bulk of technicians work in small-animal hospitals, Swenson adds, there are several specialty certifications, too, requiring added education. These include behavior medicine, clinical pathology, dental, dermatology, emergency and critical care, equine nursing, internal medicine, nutrition, surgical and zoological medicine.
The bulk of veterinary technicians enter the field upon graduating from a two-year school, Swenson notes, but there are others who have completed a four-year program. Technologists need a four-year bachelor's degree and technicians need a two-year associates degree. Typically both must take a credentialing exam and must become registered, licensed or certified depending on the requirements of the state in which they work.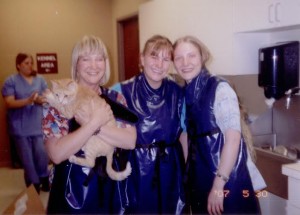 State requirements vary widely, he explains. In fact,   to the point that more than one state does not even require certification. "Can you imagine having someone treating your animal who has no certification at all?" he asks.
The inconsistency in state regulations extends to continuing education. NAVTA offers continuing education but does not regulate how much is required, since that is mandated by each state's board of veterinary medicine, adds Swenson.
The challenges associated with veterinary-technician medicine, adds Swenson, are equally physical and psychological. "They are on their feet and lifting patients the bulk of the day, which is usually eight hours or longer. Add to that the psychological stress of dealing with euthanasia and very ill animals and you have plenty of demands. It's called compassion fatigue. These are very caring individuals. And when they quit caring, it's time to leave the profession."
The bulk of veterinary technicians are women. While the demand for these professionals is high, the pay isn't comparable. In the 2012 U.S. Bureau of Labor Statistics handbook, the median salary for veterinary technologists and technicians was listed at $30,290 per year. The same publication noted the 2012-2022 job outlook growth at 30 per cent. That salary tends to trickle upward when working in laboratory and research facilities as well as specialty arenas.
Incorporated in 1981, NAVTA is a nonprofit national organization that represents and promotes the profession and provides direction, education, support and coordination for its members.