Plush toys are all the rage and we love them too. And, we are no stranger to the nostaglia trend either! When the weather outside is frightful, let your pet snuggle up to cozy Lamb Chop from Multipet. Nostalgic for you and big, adorable fun for your pooch, Lamb Chop will be an instant family fave. This toy is perfect for a light game of toss, fetching and light chewing. This beloved character brings along instant joy for pups and peeps. This incredibly soft, plush dog toy comes in three sizes: 6-inch (Mini), 10-inch (Regular) and 24-inch (Jumbo) for any size member of your pooch party.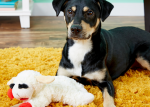 Key Benefits
Super plush dog toy.
Classic character will bring instant joy.
Includes internal squeaker for tons more fun.
Perfect for puppies and dogs who enjoy interactive play time, chewing, and fetch.
After the fun is done, she's great for cuddling.
Every dog plays differently and, since not all toys are created equal, it's always best to keep a close watch on your pup in case things get ruff. Supervised play will help toys last longer and most importantly keep your pal safe. No dog toy is truly indestructible, so always remove the toy from playtime if pieces begin to break off.
Remember Chewy also has free one-two day shipping on orders over $49, so stock up on several toys and keep that pup occupied!