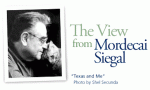 Mordecai Siegal, the prolific pet author, columnist, and media personality, has joined the staff of goodnewsforpets.com. Steve Dale, My Pet World, syndicated columnist for Tribune Media Services, and also a regular contributor to goodnewsforpets.com, calls Siegal, "the Dean of American Pet Writers."
"Every writer, no matter how well-established, must fearlessly travel uncharted waters and see where they go," said Siegal. "Appearing on goodnewsforpets is an adventure and a unique opportunity to reach those animal people who are themselves conduits to the greater audience. What a ride!"
Siegal will appear as a regular contributor on the site, writing original articles about issues affecting pets and their owners. Siegal has contributed to the goodnewsforpets site several times in the nearly two years since the site has been launched, most recently with a moving column on the aftermath of the terrorist attacks in New York, just blocks from his own residence.
"We are so pleased to have Mordecai join our site as a regular contributor," said Lea-Ann Germinder, publisher of goodnewsforpets.com. "I value his expertise in the world of pets as well as his friendship, and we're delighted he's part of the goodnewsforpets.com family."
Mordecai Siegal is President Emeritus of the Dog Writers Association of America (DWAA), and is a past director of the Cat Writers' Association, Inc. (CWA). As an authority on pets for more than 30 years, Siegal has written more than 31 books related to dogs, cats and horses, including the best selling pet guide, "I Just Got a Puppy, What Do I Do?" as well as hundreds of columns and articles in publications ranging from Good Housekeeping to Reader's Digest. He is a guest speaker and host for special dog fancy, cat fancy and veterinary association events, has made numerous television and radio guest appearances, and has won a number of prestigious awards in the pet industry.
A Goodnewsforpets 20th Anniversary Salute to Mordecai Siegal