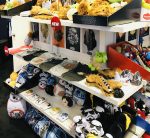 May the Fourth Star Wars collection now available from Chewy. Chewy is the official pet launch retail partner of Fetch for Pets, a New York City based pet product manufacturer for the May the Fourth Star Wars collection, a large assortment of specially designed toys and apparel in celebration of May the Fourth. Goodnewsforpets is an affiliate partner and is featuring some of the toys like the adorable Chewie Rope Toy.
The stuffer, plush and rope toys range from $4.99 -$11.99, and also include a Millennium Falcon + Chewie stuffer toy , a Yoda Plush ball, Chewie Rope toy and a Storm Trooper toy and more that are equal parts fun and adorable.
Whether dark side or light side, there's something for everyone. T-shirt and tank designs feature fan favorites including Yoda, Chewbacca, Leia, Darth Vader, Storm Troopers and include catchy editorial such as 'Don't Underestimate the Power of My Barkside' and 'Judge Me By My Size, Do You?' The character artwork was specially designed by Fetch for Pets, bringing to life new and edgy styles that fans can share with their pets. T-shirts and tanks come in sizes X-Small to X-Large and are priced at $14.99.
Goodnewsforpets first spied the collection at the Global Pet Expo in March of this year. A curated assortment of toys and apparel were featured exclusively at this year's Star Wars Celebration Event in Chicago this past April. Fans could not get enough, sometimes returning for more after trying the product out with their pets at home. The feedback and excitement for the pet products was a promising sign of what's to come. Fetch hopes to garner the same level of enthusiasm when they showcase at Comic-Con in July.
"Star Wars has such a massive reach that we knew we had to have Chewy as our launch partner. As a super-fan myself, I couldn't be more excited about this launch." said Steven Shweky CEO of Fetch for Pets.
Congratulations on the launch Steve and the Fetch for Pets and Chewy teams. May the Fourth Be with You, Too.
The Goodnewsforpets Team.
Goodnewsforpets.com is an affiliate partner of Chewy and receives a small commission on direct sales for new Chewy customers that link directly from this site.  This helps support the publishing operations of this site. https://goodnewsforpets.com/star-wars-storm-trooper-plush-dog-toy-from-fetch-for-cool-pets/
Fetch for Pets Star Wars Chewbacca Millenium Falcon Stuffer Dog Toy Available at Chewy