From t

he Kurgo pet travel, pet safety and adventure experts, the Kurgo Rucksack Carrier is now available through our partner Chewy.

The product caught the eye of the Goodnewsforpets team at Global Pet Expo 2019 due to its rugged good looks and potential ease of use on mass transit, an important factor in the greater New York City area where the company is headquartered.

"I immediately thought of how this rugged Rucksack would hold up toting a pet from the NYC subway to the train this summer, and on to Long Island's great farmer's markets. People are carrying their pet with them more and more and this is both an attractive and rugged option. My friends and I look forward to trying it out," said Goodnewsforpets.com editor Lea-Ann Germinder.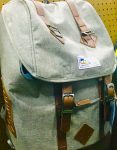 From a company born with the mission of making it easier to Go-Together with your dog, Kurgo launched the versatile, ergonomic, and modern new design of the K9 Rucksack in 2019 to reinvent how you travel with your dog. Designed for small dogs (and cats are cool too!) with big spirit, the K9 Rucksack's technical design and rugged construction is tough enough for backcountry adventures, yet comfortable enough for a daily commute. From the street, to the trails, campsites, the farmer's market and more, the K9 Rucksack has your back.
The K9 Rucksack was Kurgo's first Kickstarter Campaign and endeavor to strengthen the connection between functional, adventurous design and the day-to-day needs of the consumer. "For a long time, we had been looking for ways to get direct design feedback from our awesome supporters in the early stages of product development," said Kitter Spater, Founder and Chief Creative Officer of Kurgo. "We believe in an evolutionary design process that starts with the consumer and never ends; we are always looking to improve our products and designs using real people and real dogs to help with the process, and a Kickstarter Campaign is the perfect way to execute that."
Designed using durable water-resistant fabrics throughout, with a waterproof and muck proof Armor-sole™ bottom, the K9 Rucksack can be wiped clean and includes removeable, machine-washable interior padding. Able to fit pets up to 25-pounds, the K9 Rucksack's contoured shoulder straps, air mesh back padding, and sternum strap offer superior support and comfort for long excursions and commutes.
For the on-the-go commuter, the K9 Rucksack includes a separate padded and fleece-lined compartment for your laptop, doubling as a water bladder slot for the adventurous, a tablet pocket, two utility loops for additional gear, zipped organizational pockets, and like all Kurgo products, a bottle opener. The interior swivel tether latches onto any harness or collar keeping your dog or cat secure at all times.
Kurgo is dedicated to creating innovative, stylish and high-quality pet travel products that allow families and pets to experience adventures together, wherever life takes them. Whether it's an outdoor excursion or running errands in town, Kurgo's extensive travel and outdoor line offers a diverse selection of products to encourage pets and people to GO TOGETHER.

Follow us on Instagram and Twitter @goodnewsforpets and like us on Facebook at Goodnewsforpets. For more news from Goodnewforpets, sign up for our newsletter here.