The International Veterinary Academy of Pain Management (IVAPM) celebrates Animal Pain Awareness Month in September
September was selected as the perfect month for recognition of Animal Pain Awareness Month as it shares the month with human medicine's Pain Awareness Month.  Animal Pain Awareness Month is a time when various organizations (clinics, veterinarians, technicians, veterinary industry publications, and veterinary educators) work to raise public awareness of issues in the area of pain and pain management as it pertains to our veterinary patients.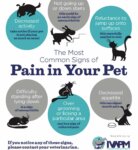 The original 2017 theme
"Pets Feel Pain Too"
was chosen to show that while we are different species, we all process and feel pain similarly.  It is important to understand that if something is thought to cause pain in humans it may also produce pain in our animal counterparts. For the entire month of September, the IVAPM is dedicated to raise awareness of both acute and chronic pain. Still going strong with IVAPM in 2021, the month is now also supported by
Zoetis Petcare.
"Pets deserve a good quality of life and the aim is to provide that animals suffering from chronic and acute pain when and where possible. Combining traditional and medicinal modalities of pain management with complimentary treatments such as acupuncture, rehabilitation and physical therapy, can have a substantial impact on improving an animal's quality of life," Tasha McNerney, BS, CVT, CVPP, VTS (Anesthesia).
To get up-to-date on what IVAPM is doing now, and learn more about the IVAPM or to get involved in the movement to improve pain management in the veterinary industry visit
IVAPM.org
.
Updated from original article published 9/15/21.