According to the ASPCA (The American Society for the Prevention of Cruelty to Animals), the fourth of July is known to have the greatest number of dogs run away? Dealing with an anxious dog on the evening of a festive holiday is normal. However, many dog owners don't know exactly how to handle it. For that reason, we want to give dog owners some tips on how to keep them safe on this upcoming independence day.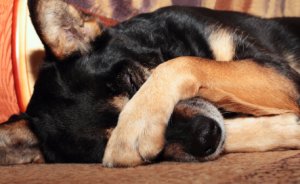 First, it's important to note exactly what dogs are afraid of on this day. Usually, if a dog is not a hunting dog who is desensitized to loud noise, they're most likely to get stressed when the fireworks go off. The loud noises can set off a trigger within their nervous system. Because of this, running away is a part of their reaction as a survival tactic.
One thing you can do is take your dog away from the loud noises. Although everyone may be outside and enjoying the sight of the night sky, placing your dog in a quiet, inside area is the best option for everyone. To be safe, you should make sure to have an ID tag, just in case your dog needs to be identified away from the house.
Another suggestion is keeping your pet occupied. Creating a safe and comfortable space for them will minimize the chances of your dog paying so much attention to the chaos in the air. To do this, consider some of Chewy's flash deals. These products will save you money and allow your dog to have a good night. It's a win-win for both of you!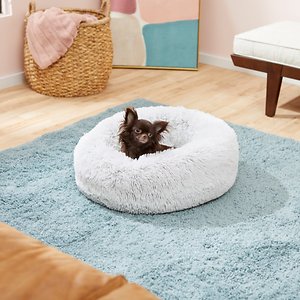 For example, there's the Frisco Eyelash Cat & Dog Bolster Bed. This bed is created with a round-like design, ideal for pets who like to curl up. The long faux fur surrounds your pet as well as the raised edges, giving them the option to prop their head up. This awesome new deal also comes in two neutral colors, making it easier to match with whatever decor you have in your household. Not only that…it's machine washable! Hurry while this deal lasts!
Lastly, you should try to make time before the festivities to give your dog a workout.Tired dogs are calmer and easier to keep quiet.They are also more likely to go into a deeper sleep, making it less likely for them to be disturbed by the noise outside.
For more hot products from Chewy to keep your dog calm this holiday, click here.