Are you a big Disney fan?  Check out this Chewy Disney Collection that features toys, clothing, beds, and much more! The site even has items broken down by franchise just in case pet lovers are huge Marvel or Pixar fans. Here are a few products from the collection: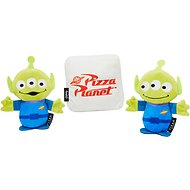 Next, we have the Pixar Aliens Plush Squeaky Dog Toy, 3 count. In this three-pack of Toy Story Pizza Planet plush toys, there are two plush aliens alongside a Pizza Planet pizza box. Each toy comes with a soft cover that makes it easy on your pup's mouth, great for playing catch. A squeaker sits inside of each toy, grasping your dog's attention every time.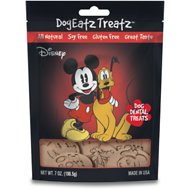 This next tasty item is the Team Treatz Disney DogEatz Mickey Fawhid-Free Dental Dog Treats, 7-oz Count Varies. Engrained with Disney's most famous character, Mickey Mouse, these treats are gluten-free dental treats that work to scrub your dog's teeth while they feast on a snack.  It's texture allows your dog's teeth to be cleaned without your own hand inside. Not only are these treats gluten-free, but they are soy free with USA-sourced ingredients and made in the USA.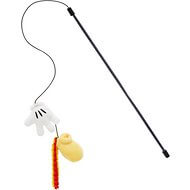 Finally, we have the Disney Mickey Mouse's Shoe and Glove Teaser Cat Toy with Catnip. Available only at chewy, this teaser toy allows you to interact with your cat with just a flick of your wrist. This causes your cat to stalk, chase, and pounce on the soft Mickey shoe and glove. Inside, there's both catnip and crinkle paper, making your cat more excited to prey on this super interactive toy.
Updated from a June 2022 post.