Heroes for Healthy Pets Infectious Disease Certificate Program 
Dogs that are social or visit pet businesses, such as doggie daycares and boarding facilities are at risk for infectious diseases.1 Fortunately, better understanding of infectious diseases and preventative care, including strategic vaccination, based on the 2017 AAHA Vaccination Guidelines and effective cleaning protocols, can help keep pets healthy.
The Heroes for Healthy Pets certification program was created to help veterinary professionals and pet businesses create facilities dedicated to being disease free. The goals of this program are to present best practices for disease prevention and control.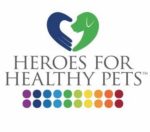 The Heroes for Healthy Pets certification is open to all veterinary and pet professionals. To become certified, both modules must be completed and the certification examination must be passed.
Heroes for Healthy Pets provides two hours of RACE-approved continuing education credits for veterinary professionals,  two hours of PACCC approved continuing education units for pet professionals, and two hours of PACCC and CPPS® approved continuing education units for pet professionals.
To take these courses free and earn your certificate, click on the registration link below.
Register Now! Already registered? Click here to take the courses!

About the Speakers

Melissa Bourgeois, DVM, PhD, DACVM (Virology, Immunology) graduated from the University of Florida, College of Veterinary Medicine in 2007 with a DVM, and in 2010 with a PhD in veterinary medicine. Dr. Bourgeois became a diplomate of the American College of Veterinary Microbiologists (ACVM) in virology (2011) and immunology (2013). Since July 2015, Dr. Bourgeois has worked for Merck Animal Health as a Senior Drug Safety Specialist.
Jason Stull, VMD, MPVM, PhD Diplomate ACVPM, is an assistant professor at the Ohio State University College of Veterinary Medicine. He obtained his PhD in Pathobiology at the University of Guelph and his Masters of Preventive Medicine at the University of California, Davis. Before coming to the Ohio State University, Dr. Stull was the State Public Health Veterinarian in New Hampshire.
Michelle Evason, BSc, DVM, DACVIM is a small animal internist currently working on a PhD at the Ontario Veterinary College, University of Guelph. She received her DVM and DACVIM from the Western College of Veterinary Medicine in Saskatoon, SK, Canada.
Heroes for Healthy Pets is co-sponsored by the International Boarding and Pet Services Association, the National Association of Veterinary Technicians, Pet Sitters International, Barkleigh Productions, and VETgirl and is powered by Clorox Healthcare and Nobivac® vaccines.