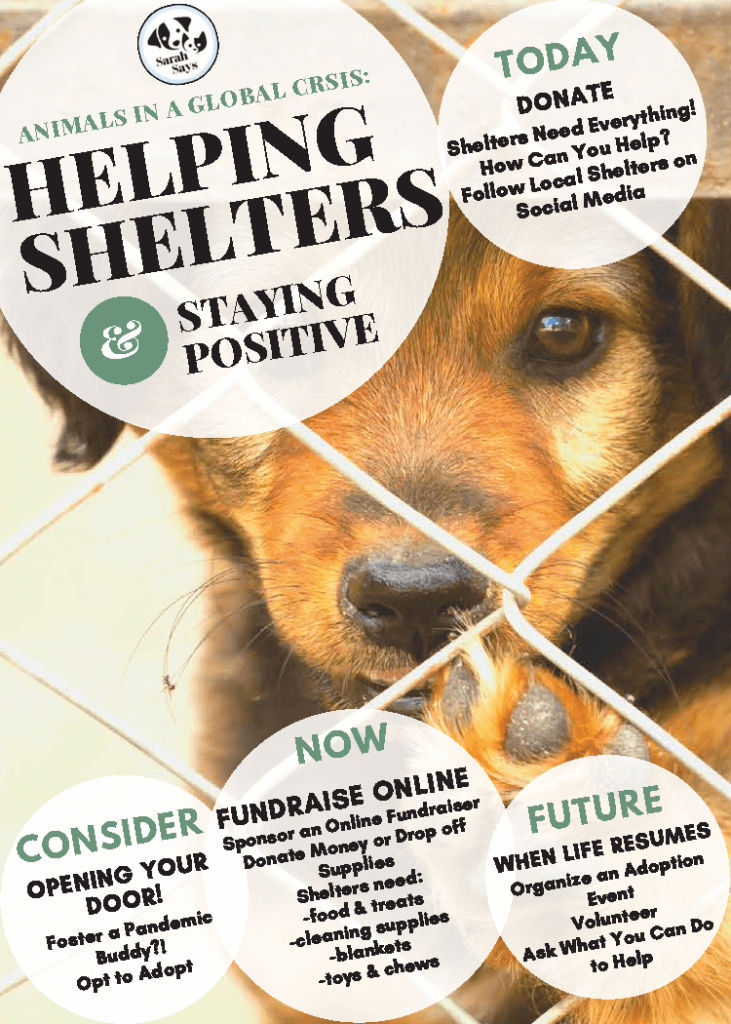 Helping Shelter Pets During the COVID-19 Outbreak
The human crisis unfolding during the COVID-19 outbreak is heartbreaking, but for animal lovers, the shelter pet crisis is an additional cause for concern. We've asked Sarah Hodgson of Sarah Says Pets, a New York City area based and longtime friend of Goodnewsforpets, a renowned author, dog trainer, shelter volunteer and serial dog adopter to share her heartfelt thoughts and ways to help in this guest blog post – Lea-Ann Germinder, Editor + Publisher.
Are you an animal lover who loves to scroll sites like Pet Finder and The Dodo? Do you have a list, as I do, of future Pet Names on your bedside table? Are you a certifiable dog, cat, or pet nut?
Well, before you lock your doors for the duration, there is a growing sector of our population in desperate need of help: Companion Animals who are now left in surging numbers in animal shelters across the globe. While several factors contribute to the cause–forced shutdowns, people–from staff, volunteers to potential adopters, the sudden imbalance between abandoned animals and homes to care for them is staggering. Not to mention the increasing number of owner-surrenders due in large part to the misinformation between the virus and our pets ability to transmit it. The Center for Disease and Control (the C.D.C.) reassures that pets show no evidence of being able to spread COVID-19; still, the numbers rise.
With donations to all charities on the decline and pets unable to escape their confines to attend adoptathons or enjoy outings due to the current health crisis, these sentient beings will have fewer advocates.
Here is where you can help be a part of a solution!
Donate Little Things Shelters across the globe are in desperate need of everything; Small gestures matter. Consider dropping off food, toys, blanket, or cleaning supplies. If you do not feel comfortable or are not able to leave home due to current guidelnes, donate to a shelter online so the shelter can purchase what they need.
Consider Fostering As a foster pet parent, you agree to home and nurture a shelter animal for a set time or until someone else adopts the pet. The shelter generally absorbs medical costs, and food is either provided or tax-deductible. As a foster parent, you're responsible for daily interactions like feeding, potty training, and play. If you decide to foster a pet, and in the process of doing so, fall in love with your little orphan, adoption is often easy to arrange.
Opt to Adopt If you're considering becoming a pet parent and open to going to a shelter, there are plenty of loving animals desperate for homes. And animal shelters are not just for dogs! You can find all sorts of pets at your local shelter, from dogs and cats to birds, guinea pigs, and bunnies. Some shelters even care for homeless birds. Call your local shelter to discover what awaits you.
If you're waiting for warmer months to adopt a pet, or for the world to right itself again, pause to reconsider. There are so many loving and needing pets at shelters across the world; so many appreciative souls that will otherwise be lost forever. Adopt now: it could be the best time ever.
Supervise Intact Pets. With COVID-19 radically spreading, the government is asking veterinarians to delay routine health checks and halt elective surgeries unless deemed medically necessary. In addition to keeping doctors and staff safe, their community is asked to donate and conserve supplies, such as Personal Protection Equipment (PPE) and ventilators, to human medicine. The AVMA is developing guidelines that are updated continuously on their site.
Here's how you can help shelters if your pet is intact. Keep all intact pet's under supervision to prevent accidental mating. When the ban lifts, schedule your pet to be fixed. If money is an issue, contact your local shelter to find low-cost clinics in your area.
These are hard times for all of us. While our health should be our number one concern, many of us can go a bit stir-crazy and have a hard time trying to stay productive; why not spend the necessary isolation with some four-legged companions? Gratitude and giving come in many forms: if you're an animal lover, perhaps you can consider opening your doors in this time of need.
Sarah Hodgson at Sarah Says Pets is reimagining the way we live with our pets. A renowned author of over twelve dog training manuals including "Puppies for Dummies, 4th ed." (Wiley and Sons Press, 2019), "Modern Dog Parenting" (St. Martin's Press, November, 2016), Sarah Hodgson is also a renowned pet trainer and behavior consultant for pet-loving households. Visit Sarah Says Pets for more information.
To get the most current information:
For AVMA updates, visit www.avma.org/coronavirus
For general CDC guidelines, visit www.cdc.gov.