It's Fourth of July and we always do our best to show off some good books for animal lovers to read during the holiday. Check out this cool children's book that's a great read for you and your kids as it features a bald eagle parent and child spending their holiday together.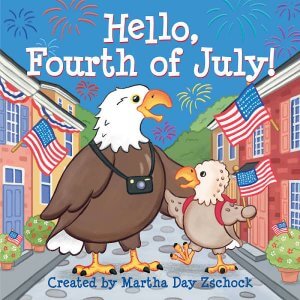 Hello Fourth of July by Martha Day Zschock
It's the Fourth of July! Parent and child eagles celebrate America's birthday in best-selling author-illustrator Martha Day Zschock's Hello! board book series for children. join the pair as they spend the day surrounded by the red, white and blue. Along the way, take in a parade, view historical paintings and statues, hit the beach, and enjoy great food at a picnic and barbecue, topping off the day with a colorful fireworks display! For ages 2-5. Made in the USA.
About the Author
Martha Zschock is the author and illustrator of many children's books and products. She is a former elementary school teacher and loves to continue taking children on field trips through her "Journey Around" and "Hello!" series of books.  She lives on Cape Cod with her family.