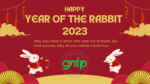 Happy Lunar New Year. We at Goodnewsforpets.com have not traditionally celebrated this holiday, but this year is particularly special. The Year of the Rabbit coincides with the anniversary of our parent company, Germinder + Associates, but more on that to come. The Lunar New Year is the Chinese calendar's first day and signals spring's start. The calendar is used to determine the first day of the year in Chinese culture. The official date usually takes place in January or February, but it does change. This year the lunar year is celebrated from January 22-24. 
Each year the animals of Chinese astrology are thought to dictate different personality traits. The 12 animals in order are the rat, ox, tiger, rabbit, dragon, snake, horse, goat, monkey, rooster, dog, and pig. In the annual zodiac cycle, the rabbit represents those born in 2011, 1999, 1987, 1975, 1963, 1951, 1939, etcetera. The Year of the Rabbit focuses on relaxation, quietness, and contemplation.
While the Lunar New Year features symbolic animals to celebrate the year, check out the Goodnewsforpets.com Calendar for other holidays and events related to pets and animal-related events.
And look for Goodnewsforpets.com to start celebrating every lunar year — after all, celebrating animals – both live and symbolic is always a good idea!