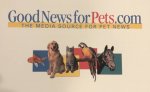 Germinder & Associates, Inc., a public relations and marketing communications agency that specializes in animal health programming, announced it received a PRISM Award of Excellence from the Greater Kansas City chapter of the Public Relations Society of America (GKC/PRSA) for their website, goodnewsforpets.com.
The PRISM was awarded to goodnewsforpets.com in the category of electronic communications, web site. Goodnewsforpets.com was recognized with the highest honor in this category for its exceptional strategy, planning, execution and results. The web site was also praised for its unique purpose, as a convenient resource for writers, reporters, producers and radio hosts looking for pet and veterinary medicine news. More than 250 entries were received for this year's GKC/PRSA competition.
"We are honored that goodnewsforpets.com has been recognized by our peers in the public relations profession, especially in such a competitive category,"" said Lea-Ann Germinder, APR, president of Germinder & Associates, Inc. "In the year since we launched, we have worked diligently to continue to provide the media audience that visits the site with compelling, newsworthy and fresh information regarding the animal health and pet industry, and it is gratifying to be recognized for our efforts."
Germinder and her team also won recognition from GKC/PRSA in 2000 for their work on the American Animal Hospital Association's 1999 Annual Pet Owner's Survey, as well as for the 72nd Annual Western Veterinary Conference.
The team has won several awards from GKC/PRSA in the past for programs executed for animal health clients as well, including "Pets Need Dental Care, Too," which went on to receive national acclaim by winning the Silver Anvil Award of Excellence, the highest recognition given by the Public Relations Society of America.
Germinder & Associates, Inc. is also proud to announce that the North American Veterinary Technician Association has renewed their contract with the agency as a site sponsor of goodnewsforpets.com in 2001. In return for site sponsorship, NAVTA will once again be featured in its own virtual newsroom on the site, with a link to the newsroom on the site homepage.
In the NAVTA newsroom, reporters, as well as interested veterinarians and pet owners, can download news releases, photos, animal care tips, contact information and story ideas about NAVTA's role in the veterinary community as well as the role veterinary technicians plan in pet health care.
"Since we sponsored the NAVTA newsroom on goodnewsforpets.com last year, we have noticed more coverage of veterinary technicians in the media. We look forward to seeing even more results as we celebrate the 20th Anniversary of NAVTA in 2001," said Patrick Navarre, executive director, North American Veterinary Technician Association.
Germinder & Associates, Inc., is a full service public relations and marketing communications agency that was founded in 1998 by Lea-Ann Germinder, a 20-year veteran of the public relations field. Germinder was 1999 president of the Kansas City Area Chapter of the national Public Relations Society of America (PRSA), and is the 2001 chair-elect of PRSA's Midwest District. Germinder & Associates recently relocated to the Livestock Exchange Building, in the heart of what was once the Kansas City Stockyards.
Original content post 1/8/01; post was updated to reflect current SEO 12/21/20.