This week, "Be Humane™ with Dr. Robin Ganzert" covers American Humane Association's recent visit to the halls of Congress to discuss the importance of bringing home all military working dogs and contract working dogs and reuniting them with their handlers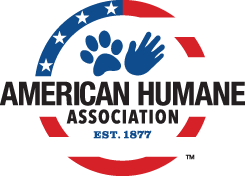 WASHINGTON, April 23, 2015  — For members of the military, dogs are their best friends. Dogs keep them safe and can provide company in the face of unspeakable hardships. Last week, American Humane Association, which has been working with the military for a century, met with members of Congress and Senators on both sides of the aisle about the issues facing the brave dogs who serve our military. Accompanying them at these meetings were two K-9 Battle Buddy teams whose stories you can hear on the latest episode of "Be Humane with Dr. Robin Ganzert," American Humane Association's weekly radio show on Pet Life Radio. The episode is available for streaming now by clicking here and is available on major podcast distributors.
This patriotic episode, hosted by the first national humane organization's president and CEO, features interviews with Marine CorporalJeff DeYoung and MWD Cena and Army Specialist Brent Grommet and MWD Matty. Both handlers served tours of duty abroad with their dogs and were both reunited with their canine brothers in arms in 2014 following lengthy periods apart.
"K-9 Battle Buddy teams are integral to the military, and each dog can use its powerful nose to find deadly hidden weapons and save the lives of an estimated 150-200 soldiers each," said Dr. Ganzert. "While the military generally does a good job of bringing home these dogs, there is still more that needs to be done, particularly when it comes to the situation with contract working dogs. We are seeking changes to the language of the National Defense Authorization Act of 2013 so we can ensure a retirement on U.S. soil for all of these brave dogs who serve our country with valor. Listen to Jeff and Brent tell their stories and you will see why it is best to reunite Battle Buddy teams in retirement, as the humans certainly need the dogs, and the dogs need their former handlers."
This week American Humane Association kicked off an advocacy campaign asking citizens to send letters to their Senators and members of Congress urging them to make the necessary changes to the National Defense Authorization Act of 2013 to help all military working dogs and contract working dogs. Concerned citizens are encouraged to click here to send the letter automatically.
Each weekly episode of "Be Humane with Dr. Robin Ganzert" is produced by American Humane Association's Scott Sowers and is distributed via Pet Life Radio's diverse platform as well as by email and social media to American Humane Association's constituents. Since the show's debut earlier this year, many famed animal lovers have taken part in the show, including actor and rapper Ice-T and his wife Coco, comedy legend Martin Short, the E! Network's Ross Mathews, reality television superstar Lisa Vanderpump, "America's Veterinarian" Dr. Marty Becker, famed dog trainer Victoria Stilwell, country music star Naomi Judd, philanthropist and entertainer Paris Hilton, "The Bachelor's" Prince Lorenzo Borghese, supermodel Joanna Krupa, style icon John Paul DeJoria, and many more.
Pet Life Radio is available free on-demand from the PetLifeRadio.com website and more than 30 podcast distributors. The Pet Life Radio live radio stream is broadcast 24/7 worldwide on the PetLifeRadio.com home page as well as to smart phones, mobile devices and cars through mobile apps including iHeartRadio, iTunes Radio, TuneIn Radio, Stitcher Radio, Nokia Radio, and ooTunes Radio.
Created by award-winning producer, Mark Winter, Pet Life Radio features more than 60 weekly pet-related talk shows hosted by the most well-known pet experts, authors, and radio and TV personalities in the world of animals and pets and boast more than 7 million listeners monthly.
To listen to the special episode of "Be Humane with Dr. Robin Ganzert" with a thought-provoking conversation on the importance of treating farm animals humanely, as well as all other episodes, please visit http://www.petliferadio.com/behumane.html. To learn more about the issues K-9 Battle Buddies are facing and what American Humane Association would like to see addressed, please visit American Humane Association's blog post on the subject.
About American Humane Association
American Humane Association is the country's first national humane organization and the only one dedicated to protecting both children and animals. Since 1877, American Humane Association has been at the forefront of virtually every major advance in protecting our most vulnerable from cruelty, abuse and neglect. Today we're also leading the way in understanding the human-animal bond and its role in therapy, medicine and society. American Humane Association reaches millions of people every day through groundbreaking research, education, training and services that span a wide network of organizations, agencies and businesses. You can help make a difference, too. Visit American Humane Association at www.americanhumane.org today.