Yoda's smile shines bright with this Star Wars Yoda Plush Ball Dog Toy from Fetch For Cool Pets. This plush toy is bound to please your pup with a fun game of fetch and provide hours of chewing enjoyment. Made of polyester, it also has a squeaker on the inside to keep your canine companion interested and occupied. Whether it's traveling to the park or playing on Dagobah, Star Wars Yoda Plush Ball Dog Toy will be there to watch over your pup.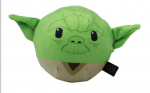 Key Benefits
Plush toy that looks just like your favorite little green Jedi master.
Embroidered and made of polyester for light to medium chewers.
Contains a squeaker on the inside to keep your pup interested.
Perfect for cuddling or playing a game of toss and fetch.
Officially Licensed Star Wars Product.
It's always best to keep a close eye on your dog with toys but especially when introducing a new toy. Every dog plays differently and, since not all toys are created equal, watch how your pup accepts and plays with the toy. Supervised play will help toys last longer and most importantly keep your pal safe. No dog toy is truly indestructible, so always remove the toy from playtime if pieces begin to break off.