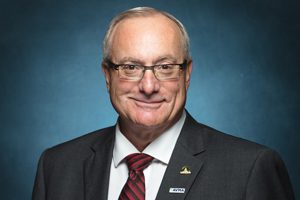 The American Veterinary Medical Association (AVMA) House of Delegates (HOD) has elected Dr. John Howe, Grand Rapids, Minn., as the organization's president-elect. As president-elect, he will assist the president and substitute for the president when necessary, preside over all sessions of the HOD and serve as a voting member of the AVMA Board of Directors. Dr. Howe will begin his presidential term July 2019.
As he assumes his role, Dr. Howe looks forward to continuing initiatives to improve member satisfaction and communications to members. "We need to continue the strategy of measuring everything AVMA does to see if it is improving member value," he said. "We need to continue to look at things strategically to see if they are appropriate and if we have the time and resources to do them."
Dr. Howe has been an active leader in the veterinary profession for more than 30 years at the state and national level. Currently, he is the District VII representative on the AVMA Board of Directors, which includes members living in Iowa, Minnesota, Missouri, Nebraska, North Dakota and South Dakota.
During his tenure on the AVMA Board, Dr. Howe chaired AVMA's State Advocacy Committee and the Diversity and Inclusion Committee, and served as AVMA Board liaison to several AVMA councils and committees. He has also served as vice chair of the AVMA Council on Veterinary Services and the Governance Performance Review Committee, and as a fill-in delegate or alternate delegate from Minnesota on the AVMA House of Delegates.
At the state level, Dr. Howe has served as executive board member, vice president and president of the Minnesota Veterinary Medical Association. He received the group's Veterinarian of the Year award in 2011 and Distinguished Veterinary Service award in 2015. Dr. Howe is also a member of the American Association of Equine Practitioners, the World Aquatic Veterinary Medicine Association and the American Association of Fish Veterinarians.
Dr. Howe began his career by starting a solo mixed-animal practice in North Branch, Minn. He then sold the practice and moved to Grand Rapids, Minn., where he established North Country Equine and Large Animal Medical Center. This practice evolved into North Country Veterinary Clinic, a five-doctor mixed-animal practice treating large and small animals, birds, exotics, cervidae, aquaculture and some large cats. North Country Veterinary Clinic became part of National Veterinary Associates in 2007, and Dr. Howe currently manages the practice.
Dr. Howe is a 1977 graduate of the University of Minnesota College of Veterinary Medicine.