SLI Systems Analysis of 3.5 Million E-Commerce Site Searches Finds Dog Beds and Cat Toys Most Popular Items; Dog Lovers Most Likely to Shop Sales
Cats may be a bit jealous of their dog friends, who will be digging more than two and a half times the number of gifts this holiday. SLI Systems, a global leader and provider of e-commerce solutions and services for mid-to-large-size Internet retailers and B2B sites, studied site search trends across pet product sites and found that this year it's all fun and games for cats, and bedtime for dogs – especially in California, New York, Florida, and Pennsylvania.
According to PwC's 2016 Holiday Outlook, pet owners will spend an average of $62 each this year on dogs, cats or both. Millennials are expected to outspend everyone else at $81 each, followed closely by Gen X at $79, families with children at $71, and singles at $70.
SLI analyzed site search activity across 8 pet websites based in the U.S., as well as several serving UK and Australia markets. The company studied more than 3.5 million consumer searches taking place during the four weeks leading into the Holiday season. (The study excluded searches for pet supplies, such as food or medicines, focusing on likely gift items.)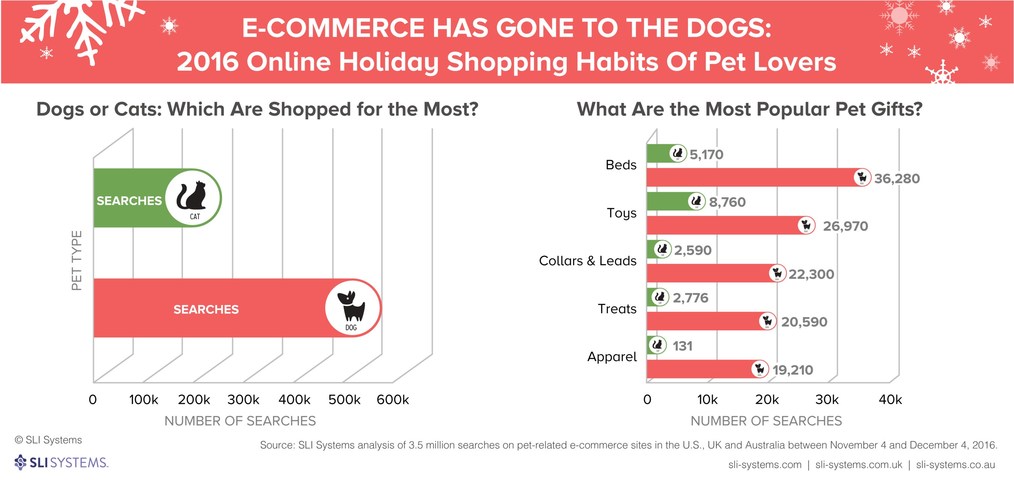 Key Study Findings – Top Ten Items and Sale Habits
Dog gifts much more popular – Searches containing the word "dog" were 2.5x more common than those containing "cat."
Dogs all set for slumber – Across the globe, site searches for "dog bed" were nearly 2x more common than the second most popular item: "dog collar." The remainder of the top ten, in order, were: toys, treats, coats, bowls, sweaters, crates, chews, and bones.
Cats want to play and scratch – Sixteen percent of cat-related searches were for "cat toy," earning the leading spot among the most popular cat gifts this season. Also clawing their way into the top ten, in order: "scratch" items, beds, catnip, collars, treats, carriers, bowls, trees, and of course condos.
Diggin' for Deals – Searches for dog products accompanied by the word "sale" were 16% more common within dog-related searches than when "sale" was used within cat-related searches, indicating dog owners are more likely to seek discounts.
U.S. Highlights – California and New York Into Pet Gifts
"Almost half of all households nationwide have a pet, driving a booming market for pet products, particularly online. Our data team set out to uncover likely gift trends for these special family members, analyzing the most popular site search terms among pet e-commerce sites using SLI Learning Search® during the 2016 holiday season," said Chris Brubaker, CMO, SLI Systems.
Top Five Dog-Loving States – Dogs are living the dream in

California

, where 9.2% of all dog-related site searches originated. Grabbing 7.7% of dog item searches was

New York State

, followed by

Florida

(5.8%) and then

Pennsylvania

and

Texas

, which virtually tied with 5.7%.
Top Five Cat-Loving States – Cats also find most comfort in

California

. More than 10% of U.S. searches for cat products originated in the Golden State, with

New York

(8.9%) close behind, followed by

Pennsylvania

(6.5%),

Florida

(6.1%) and

Wisconsin

(5.8%).

New York

and

California

also virtually tied for top searches for "kitten" items.
California is the most populous state in the U.S., with more than 39 million residents, followed by Texas (27.5), Florida (20.3 million), New York (27.5 million) and Illinois (12.9 million) (U.S. Census Bureau, 2015). Wisconsin, with about 5.8 million residents, however, ranks 21st in population, making the state's love of furry felines notable.
Source: SLI Systems