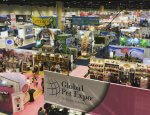 The pet products buyers have spoken. As in years past, while dog and cat products continue to dominate the entries, the small animal categories high interest, mirroring the growth of consumer sales.
Officials from the American Pet Products Association (APPA) and Pet Industry Distributors Association (PIDA) announced the winners of its 11th annual New Products Showcase Awards at this year's online-only Global Pet Expo Digital Access. The Best in Show, Second and Third place awards were presented March 26 across nine categories including Aquatic, Bird, Boutique, Cat, Dog, Natural, Reptile, Point of Purchase and Small Animal. The awards are selected based on the voting results of buyers attending the event.
"We are excited to reveal the winners of the 2021 New Products Showcase Awards," said Andy Darmohraj, EVP and COO of APPA. "While we were unable to be together to present these awards in person, we're grateful for everyone who watched this year's presentation remotely. These awards are coveted as they recognize the latest in innovation and reveal upcoming trends that retailers can pass along to their customers."
Out of the 300 new product submissions, the following winners were selected across the nine categories:
For more information about the New Products Showcase Awards and Global Pet Expo, visit globalpetexpo.org. You can also watch the video presentation here on YouTube.
This article has been updated from an earlier version.